How much sunscreen do I apply daily & do I reapply?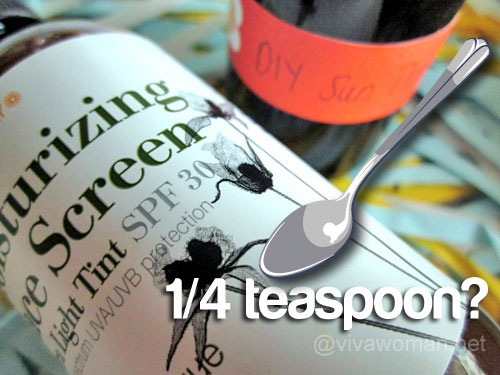 I get queried on this a lot – how much sunscreen do I apply on my face daily and do I reapply? Okay, the rule of thumb for sunscreen dosage for the face is 1/4 to 1/3 of a teaspoon but you know what, I don't really stick to this rule for daily wear. I actually use lesser than 1/4 teaspoon and I don't reapply. Yeah, I know that's going to shock some of you but if you're using the Marie Veronique Organics Moisturizing Face Screen SPF30 like I am, you know it is quite a challenge to apply more.
Recommended dosage according to experts
Back in 2007, I had already mentioned this: some girls suggest that we should be applying half a teaspoon of sunscreen to our face but based on what I've picked out from the Wiki, 1/4 to 1/3 of a teaspoon of sunblock is apparently adequate for our face.
Dosing for sunscreen can be calculated using the formula for body surface area and subsequently subtracting the area covered by clothing that provides effective UV protection. The dose used in FDA sunscreen testing is 2 mg/cm². Provided one assumes an "average" adult build of height 163 cm and weight 68 kg with a 82 cm waist, that adult wearing a bathing suit covering the groin area should apply 29 g (approximately 1 oz) evenly to the uncovered body area. Considering only the face, this translates to about 1/4 to 1/3 of a teaspoon for the average adult face.
20% non-micronized, non-nano zinc oxide
For those who don't know, MVO Moisturizing Face Screen is my daily sunscreen. While I love the product and have been using it almost consistently since early 2009, I haven't been applying according to the widely prescribed dosage. The reason is because the MVO Moisturizing Facescreen contains 20% non-micronized, non-nano zinc oxide and if you know zinc oxide that is non-micronized, it can create quite a whitecast if you apply too much.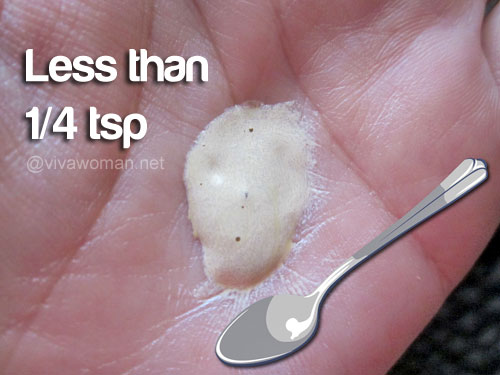 My lesser than 1/4 tsp dosage hasn't done damage
So this is how much I really use daily for casual sun exposure. Slightly less than 1/4 teaspoon but I believe it has kept my pigmentation under control. In fact, during a period I was testing other products, I actually started seeing some new pigmentation and I quickly reverted back to this one. I believe the multiple antioxidants in the formulation has worked well with the zinc oxide to protect my skin too.
Additional sun protection
However, while I don't use that much sunscreen daily, I use a DIY Sun Protection Oil underneath this sunscreen. Plus, at some stages, I was also taking some internal sun protection supplement like Heliocare initially and then Astaxanthin later. Of course if I go under the direct sun for outdoor activities, I will use more of the product. Well, actually more than a 1/4 in that case. (So if you see someone with a really pale face bobbing in the pool, that could be me.)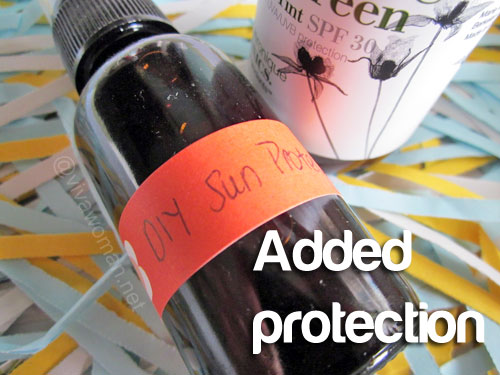 Why I don't reapply
As to the second question, no I don't reapply my sunscreen either unless I'm engaged in outdoor activities like cycling or swimming. On a daily basis based on casual sun exposure, I just rely on whatever I've applied early in the day. Anyway, zinc oxide is a physical block and hence, it won't wear off unless I rub or wipe it away.
Depends on what sunscreen you use
Okay, before I go off, I just want to qualify that while this lower-than-recommended dosage and not reapplying has worked for me, it may not be applicable for you especially if you're using a different sunscreen. At the end of the day, you have to know if the active ingredients in your sunscreen are adequate for broad spectrum protection and photostable enough to take you through the day. If you like to know what are the best sun protection ingredients, check out my post on the best and safest sunscreen ingredients.
So ladies, how much sunscreen do you use daily?  Are you applying enough or slightly lesser than the recommended like me?
Comments