National Day Giveaway: Ujene Puriste Collagen Range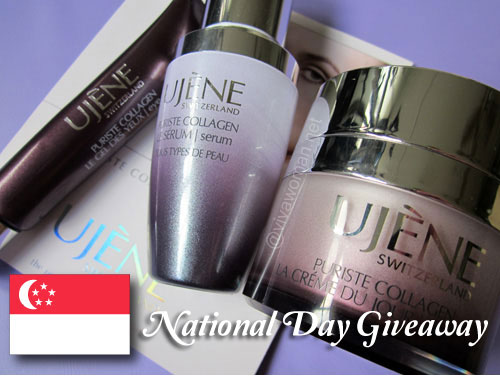 Good morning everyone! It's Singapore's National Day today and we're celebrating with a giveaway of my new-found favorite brand! Yes, we're giving away a set of the Ujene Puriste Collagen range worth over S$300 – an eye gel, a face serum and a day cream. I understand that many of you took the opportunity to snap up the products at 50% off when I last reviewed them so for those who didn't managed to catch the promotion on time, you won't want to miss your chance to get the Swiss range for free!
Contains 99% purity collagen
Those who read my review would have remembered reading that the Ujene Puriste Collagen range contains Oviluxe, which is 99% purity collagen that acts as a moisture-magnet in skin, drawing and plumping up vital moisture within skin's epidermis. The three products that we're giving away are made with the finest grade ingredients and are free from phthalates, parabens, formaldehydes, propylene glycol, PEGs, volatile alcohols, mineral oil, petrolatum, paraffin wax, synthetic dyes, synthetic fragrance, and essential oils. And if you're against cruelty and animal testing, then this range is definitely for you.
My favorite product from the range
Of the three products, this serum is my favorite. Besides a generous dose of 10% active Oviluxe, this potent serum contains Hyaluronic Acid and Vitamin C, as well as finest grade botanical extracts including Ginseng and Aloe Vera. While I wouldn't go as far as to say that this product gave me a natural facelift, I actually noticed some my stubborn pigmented marks being lightened up and also some noticeable amount of skin firming after just using this serum for a week. In fact, even the reviewers at MakeupAlley rated this product 5 out of 5. If you're keen to find out about the Ujene range, check out more details at their website.
Giveaway details
Okay, one Viva Woman reader will get to win the three products from Ujene. Only three steps are required to participate in this giveaway:
Tell me something interesting you've found about the Ujene range.
Be a fan of Ujene Facebook Page.
Answer #1 in this entry along with your Facebook name.
This giveaway is open to all readers with a local Singapore address. It will close next Friday, 17 August 2012 and the winners will be picked by the team at Ujene and announced on the Viva Woman Facebook Page. So want to get your hands on this interesting range? Then enter right away!
Comments