DIY Beauty: 3 different homemade deodorant recipes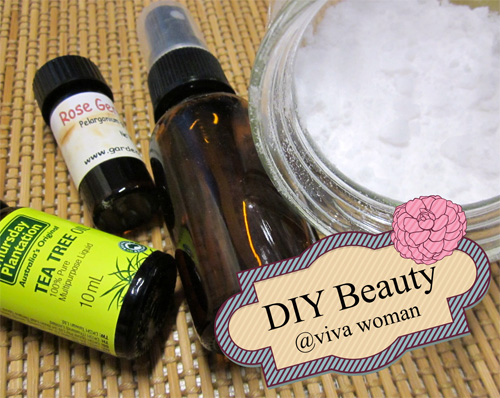 I don't know about you but deodorant is a necessity in my beauty routine. While I'm not one who is always particular about ingredients because of health reasons, I have to admit that some of the ingredients in deodorants purchased off the counters do scare me somewhat because I have to use this item daily. Sure, there are deodorants with more agreeable ingredients off the counters too but they usually cost more and don't always work. So I've found that my best bet is really to make my own homemade deodorant.
So what has been happening these three years is that I've been experimenting with a few different version of homemade deodorants on and off. While I don't use them that consistently because I sometimes get enamored with a more attractively packaged commercial product, I'm pleased to say that homemade deodorants work quite well for me when I do use them. I've also discovered that whenever I switch from using a commercial deodorant to something homemade or natural, there is always a detox period when the smell gets worst before it gets better.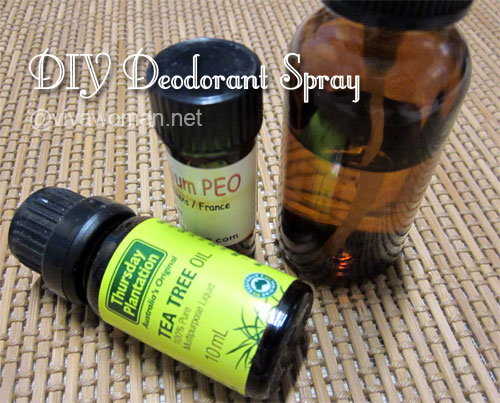 DIY Deodorant Spray
You find a lot of deodorant sprays in the market and they're quite popular because they're easy to use. The more naturally formulated deodorant sprays tend to be messier though and I'm not too fond of them. But it's probably the easiest to make if you're considering using a homemade deodorant because all you need is a bottle filled with water and added with a few drops of tea tree essential oil. If you like the spray to smell better, just add a couple more drops of your favorite essential oil.
If you're spraying this directly on your underarms, the liquid is bound to drip and so my best bet is to spray this onto a cotton pad and then use the cotton pad to wipe on my underarm area instead.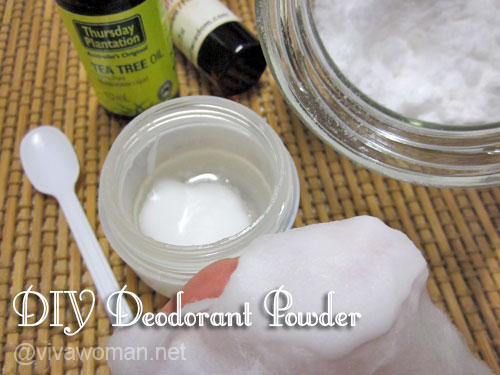 DIY Deodorant Powder
This is one recipe I keep coming back to and in fact, is what I currently use daily. What I've done is to mix some tea tree oil and lavender essential oil into a bottle of baking soda. It's still in powder form even with the essential oils added. So all I need is to scoop out some daily, add a wee bit of water to make into a thick paste. And to apply, I used a cotton pad to dab the paste on my armpits. The mix takes a while to dry up and the protection last an entire day.
However, I've found that this is not good when I really perspire a lot as the baking soda would leave some white stains on my clothes. So I have to be kind of careful and avoid wearing something too dark in color should I know that I'll be perspiring profusely.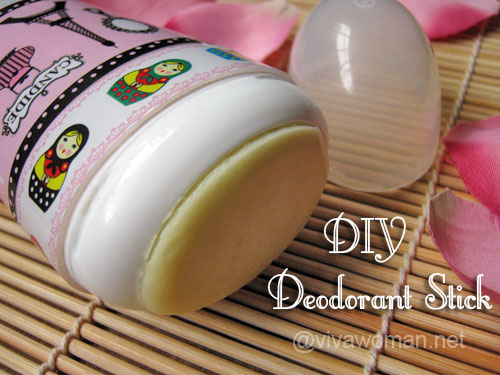 DIY Deodorant Stick
This is the most challenging to make because it involves more ingredients and some processes. However, it's the most convenient in terms of application as it works just like commercial deodorant sticks. My recipe is quite simple and I use no more than five ingredients:
– 1oz cocoa butter
– 1oz shea butter
– 2 tablespoons of baking soda
– 20 – 25 drops of tea tree essential oil
– 16 – 18 drops of rose geranium essential oil
I've written a more detailed deodorant making process here if you like to refer. I had thought that this stick didn't work so well for one of my underarms but I later realized it was just part of the detox.
No need for preservative
All these homemade deodorant recipes are safe unless you're allergic to essential oils or can't use them for medical reasons. And because the recipes involve using quite a bit of essential oils, there is no need to add preservatives unless you wish to use the deodorant beyond a month. So have you tried making your own DIY deodorant or would you give any of these a try?
Comments