Oh am I over the acceptable age to wear graphic tees?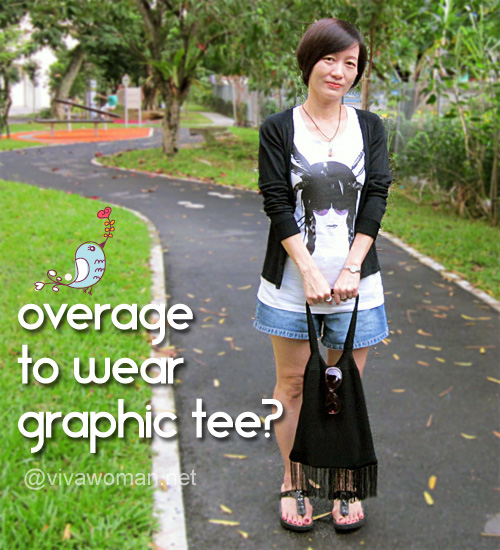 Seriously, I never get this thing about dressing your age because for me, I'm always aiming to dress under my age most of the time. So it's very funny when someone recently told me that I shouldn't be wearing graphic tees anymore at my age and I was like (O_O). Huh? Cannot already meh? But I really like them what.
Okay, there are certain kinds of graphic tees I won't wear like the Hello Kitty types but I really like those arty graphic tees. Still, I was told that they're more suitable for the younger ones (she meant teenagers or those in their early twenties). She thinks that this one that I'm wearing is too girlie and I should just stick to wearing plain solid colored tees.
Although her tone was cheerful and friendly, I thought she was quite rude. But anyway, I wasn't offended. I just laughed it off because I didn't think this person makes a good fashion police and so her comments didn't have weight on me. Plus, I feel perfectly comfortable wearing what I wear and I'm not about to change my wardrobe just because of what she has said. Maybe the next time I meet her, I should do the whole works of wearing a girlie graphic tee complete with mini skirt, a pair of ankle boots and perhaps fake lashes too?
So what's your take? Do you think there is an acceptable age to wear graphic tees?
Comments