NeoCell Collagen Radiance Time Release Serum Vit C+E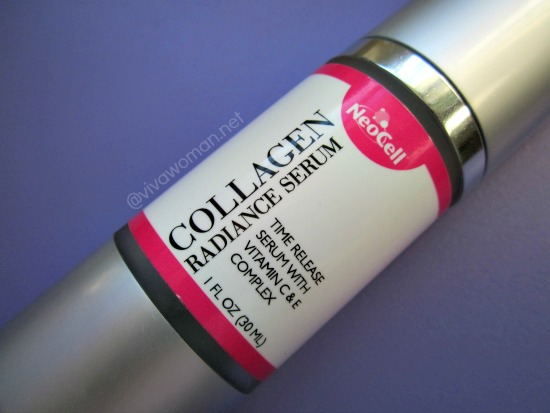 As I was writing this review, the tune of Madonna's old hit, "Hung Up" was in my head. Why? Because I kept thinking that time is going by so slowly with this NeoCell Collagen Radiance Time Release Serum with Vitamin C and E Complex. I was using this serum for three weeks before pausing for a few more weeks to try the Fancl Aging Skin Care range. So I ended up taking longer than intended to review this. But still, better late than never!
Collagen boosting promises
This is a relatively new product from NeocCell and I was attracted to its collagen boosting promises. I've read countless of raves on NeoCell's collagen supplements but this is the first facial skincare product I've come across from the brand. It sounds like a promising product and the price is also very affordable.
Time-release stable form
Described as a skin defense serum, the NeoCell Collagen Radiance Serum contains fat-soluble vitamin C and vitamin E as well as phospholipids, all in a time-release stable liposome form. It works as an antioxidant to protect skin against sun damage and is able to stimulate collagen production to enhance the skin's firmness, elasticity, and moisture.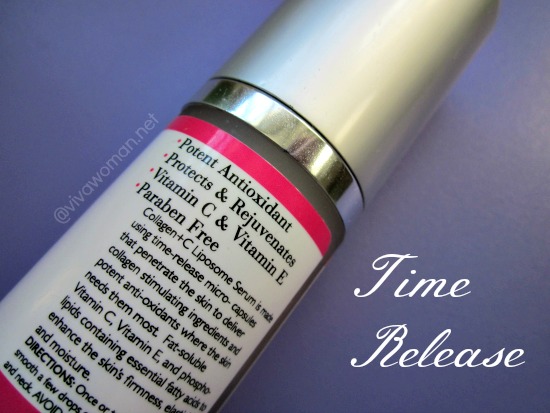 Ingredient list
The product isn't in the natural or organic category but it is sans parabens. Here's the full ingredient list: Water, phospholipids, tocopheryl acetate (vitamin E), ascorbyl palmitate, soluble collagen, acrylamide/sodium acryloyldimethyltaurate copolymer, isohexadecane, polysorbate 80, butylene glycol, xanthan gum, tyrosine, proline, cysteine, zinc chloride, ethylhexylglycerin, phenoxyethanol, potassium sorbate, disodium EDTA.
Working all day long
Although I'm not too sure how it actually works, I kinda like the idea of time-released fat-soluble vitamin c and vitamin E as it means I get protection and cell regeneration throughout the day. In addition, I learned that ascorbyl palmitate, a fat-soluble form of vitamin C, is a great collagen builder and antioxidant that works better than water soluble vitamin C—definitely something my skin can benefit from.
Texture and smell
The texture of this serum is in between a cream and a gel, a bit sticky on contact but blends very well into the skin upon application. It has a sweet gum-like like scent that I need getting used to but other than that, I have little issues using it even under my MVO sunscreen.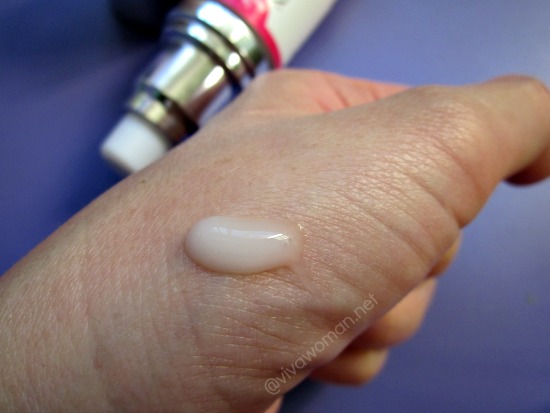 NeoCell Collagen Radiance Time Release Serum with Vitamin C and E Complex
reviewed by
Sesame
on .
Moisturizing properties
I can't say I've noticed a significant difference after using this serum but I like it anyhow because of how well it sits in my skincare routine. Although I'm using this serum only in the day, I can use it both day and night if I like and it does not conflict with my other skincare products nor does it make my skin feel dry or oily.
In fact, I think it provides good hydration because my skin feels comfortable all day long with this. In addition, it is easy to use and it is cheap. It might be releasing some goodies into my collagen but I can't see for now because I believe my skin's collagen is probably at an optimum level due to the AFC collagen supplement that I'm taking. So except for the scent perhaps, I have nothing I don't like about this product.
Highly reviewed
If you are taking NeoCell's collagen supplement, you might seriously want to give this a try to see if it complements your skin any better. If you're after a good and affordable anti-aging serum, this is one you can give a try. The last I checked, this product garnered excellent reviews from 119 reviewers at iHerb so I'm not the only one liking it. Actually, I am of the opinion that this works as well as other more expensive serum and even if it does not work for your skin, you won't feel any heartache for losing US$15.47.
Rating: 4.5


Price and availability
Interested to check it out? Go look it up at iHerb.com. The 30ml retails for US$15.47 and international shipping is available.

Comments