NeoCell Super Collagen + C Type 1 & 3 beauty tablets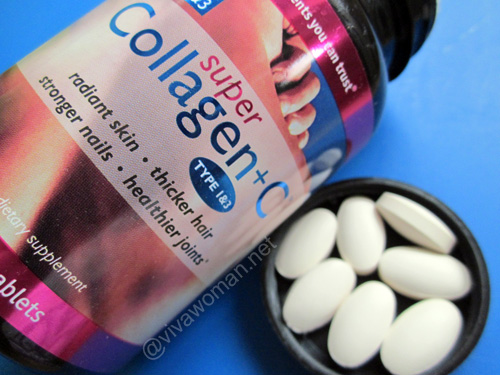 How long do you expect a beauty supplement to show efficacy after you've started consuming it? Immediately? Overnight? A week later? A month later? Well, I really like the first and second answers but I usually go for a week. And if I don't see results in a week, I'll wait a month or in this case, I waited till I've completed the entire bottle. So did I see any significant improvements with this NeoCell Super Collagen+C Type 1 & 3 supplement?
Capsules vs powdered
Before discussing the results, let me tell you how I came to know this product. I first learned of Neocell from a reader by the nick of Destiny. She's quite awesome because she's always introducing me to goodies – I also found out about Astaxanthin through her recommendation. Destiny had introduced me to the Neocell powdered supplement in one of her comments but I didn't get that because I found powdered formulas too troublesome. So when I spotted that Neocell had collagen capsules in these NeoCell Super Collagen+C Type 1 & 3, I decided to get a bottle to try.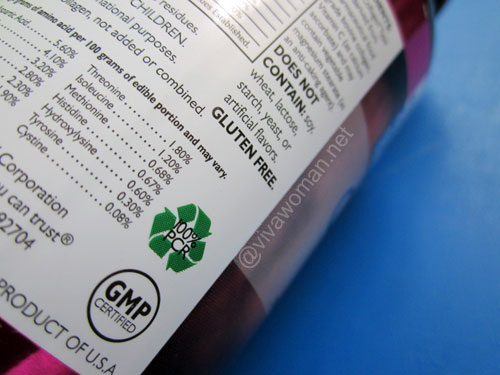 GMP certified and gluten free
According to descriptions, NeoCell Super Collagen+C is made up of the collagen peptides Type 1 & 3 which support collagen in skin, hair, nails, muscles, tendons, ligaments and bones. Super Collagen+C is enzymatically hydrolyzed, providing an amino acid ratio with a low molecular weight for maximum bioavailability and utilization by the body. When Super Collagen is taken internally, the body receives the raw materials it needs to supplement the collagen found in all of these areas and may act as a messenger to trigger the synthesis of new collagen fibers. Vitamin C is added to provide optimum supplementation of your dietary collagen needs. Doesn't it sound like an amazing beauty supplement? And the bottle of 120 tablets cost only US$10.85 at iHerb. It does not contain soy, wheat, lactose, starch, yeast, or artificial flavors and it's GMP certified and gluten free.
Strange taste
Actually I should have finished this bottle sooner because I have to take three tablets twice daily. But I took longer as I could only swallow three tablets once in the morning as each tablet is quite big and has a strange taste. Well, I did start out taking three twice a day but when I did not see any effects after a week or so, I decided to save the trouble. And did I see any results after finishing the bottle?
Powdered formula may yield better results
Well, I wish I can say yes but I really could not tell. I might have to try another bottle or two to see better results and it's quite tempting, given the price point. But I think I'll give this a pass for now. I read various reviews on the powdered formula and noted that that one will probably yield better results. Maybe I'll reconsider trying that formula down the road.

Comments