Adamsfield SLS-Free Restorative Foaming Shampoo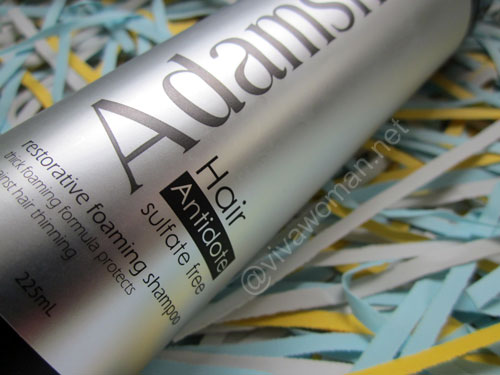 Shampoos for hair loss isn't new but a foaming shampoo for hair loss may be. Well, at least to me. I've come across foaming facial cleansers but a Hair Antidote Restorative Foaming Shampoo? This is a first for me. I can't say I'm terribly excited about reviewing this product, especially since I've never heard of the UK brand, Adamsfield. But given that this product is made to be free from sulfates, parabens, EDTA as well as silicones and is designed for thinning hair, it does sound like a product designed for my haircare needs.
Hair loss treatment
Adamsfield is based in the United Kingdom but the products are manufactured in Malaysia. The company has received acclaim for its research into hair and scalp issues, having developed a breakthrough formula for the treatment of hair loss. The company's positioning is slightly unique: on one hand, it offers a range of animal cruelty free, naturally derived products. On the other hand, the company uses modern science to develop a new generation of haircare cosmeceutical products.
Ingredient list
Aqua, sodium lauroyl sarcosinate, disodium laureth sulfosuccinate, maltooligosyl glucoside/hydrogenated starch hydrolysate, xantham gum, polyquaternium-10, guar hydroxypropyltrimonium chloride, 2,4 diamino pyramidine oxide, glycerin, vaccinium macrocarpon (cranberry) fruit extract, vaccinium angustifolium (blueberry) fruit extact, punica granatum fruit extract, euterpe oleracea fruit extract, grape seed extract, ppg-5-ceteth-20, dmdm hydatoin (0.2%), menthol, fragrance, citric acid.
test
Supports follicle health
This Adamsfield Hair Antidote Restorative Foaming Shampoo is described as a gentle, daily use sulfate-free shampoo developed specifically for thinning hair. Incorporating Aminexil SP94® to support follicle health, the shampoo features a specially designed foam pump for optimum foaming and lather. So even though this product is sulfate-free, it lathers and foams up very well. Extremely well actually.
Better for dry hair type
My first impression of the product was the lovely kinda-fruity scent. Although I have no issues with its cleansing prowess, I didn't quite like how the shampoo leaves a slightly oily residue on my hair. While the formulation is designed to stabilize oil production and not strip the scalp of its protective barrier, I was uncomfortable that the shampoo leaves a slightly oily residue on my hair. It feels as if my hair wasn't well shampooed. In fact, because of this, my hair didn't have as much volume as compared to when I didn't use it and it got oilier quicker in the day.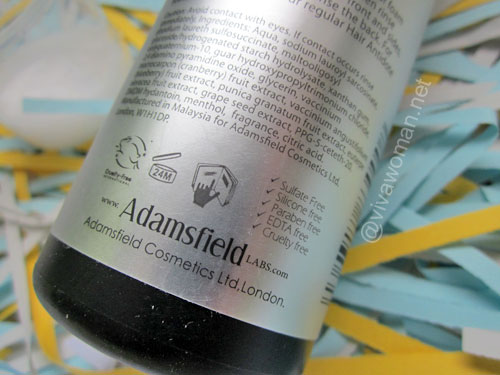 Don't need a hair conditioner
I'm not so sure if this product truly restores thinning hair but I believe it has helped strengthen my hair follicles. So perhaps with longer term usage, those with thinning hair will benefit more. I wouldn't mind continuing using this if not for the fact that it doesn't work my for rather limpy and oily hair. On a slightly positive note, I don't really need a conditioner with this shampoo because it's quite nourishing.
International shipping is offered
If your hair is normal and you're thinking of improving your hair thinning issues, you might want to give the brand a check at their website. The 225ml foam pump bottle retails for 10GBP or about US$16. International shipping is available.


Comments