iHerb offers special shipping exclusively to Singapore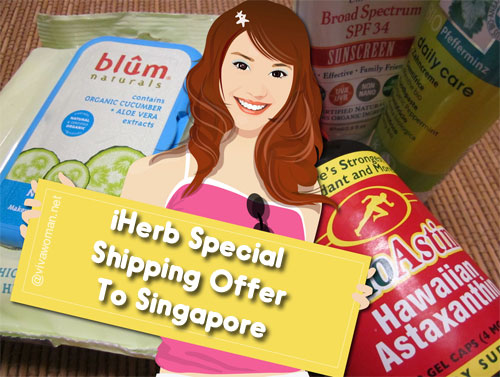 Boo hoo hoo…I'm so sad! Why did iHerb announced this special shipping offer to Singapore AFTER I had placed my order last week? Why didn't they announce it earlier so that I can benefit from it and get my order earlier? And I could do with a few new items anyway by topping up my order to US$60! But all the boo hoo aside, I'm thrilled that they've introduced a new shipping offer just for us in Singapore!
Euroasia Express
Those who are familiar with iHerb knows that the store offers two mode of shipping for international customer: DHL and international airmail. I usually opt for international airmail but the time for the goods to arrive can be as long as three weeks! I also understand from other readers that this option can be rather inconsistent at times. So I was really pleased when they announced a new shipping method exclusively for Singapore customers called Euroasia Express. This is a service that includes tracking information and costs a flat fee of only US$8 for orders totaling more than US$60!
Duration
This shipping method takes 4 – 8 business days (6 – 10 days total). However, iHerb has mentioned that the more orders they ship using this method, the faster the delivery will be — as they need to meet a minimum quota of packages to use it. I'm guessing most people will opt for this since it is cheaper than DHL and more reliable than international airmail?
Over 35,000 products
Anyway, for those who are new to iHerb, shopping at iHerb is like visiting a giant health food store in the US, with over 35,000 brand name products in stock! On top of the health food, you'll find many natural beauty products. More importantly, you can expect discounts up to half off retail prices. I get my supply of natural toothpastes, essential oils, henna, antioxidants, vitamins, and more at the store. You can even find cosmetics products in there.
First time discount
Oh, if you're ordering for the first time, you can use my promo code – OVO966 – to receive an instant US$10 off your first purchase of US$40 or more. For purchase less than US$40, you get US$5 off using the same code. Do know that this is a rewards program so I'll benefit if you use it.
Well, with the low exchange rate now, it's really a good time to shop. So if you're gear for it, check out the website.

Comments