New product: Marie Veronique Organics Cleanser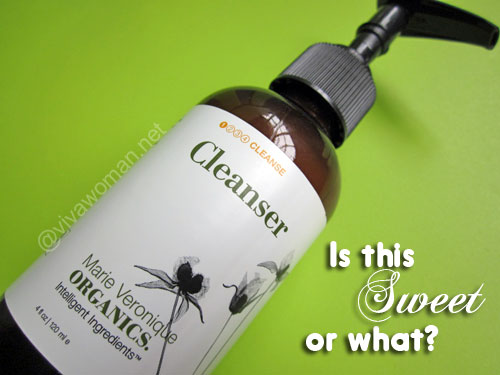 Marie Veronique Organics recently launched Cleanser. According to the company, this is a gentle but effective cleanser that removes dirt, oil, sunscreen and makeup without harsh or irritating sudsing agents and naturally soothes and softens the skin with green tea, aloe vera, and jojoba oil. I received a complimentary bottle for review and was eager to try it because of what it promises. But does it leave up to its claims?
No harsh detergents
Many of you know Marie Veronique Organics and so I don't need to introduce the brand. This cleanser, like all their products, is formulated without toxic preservatives, harsh sudsing agents, anti-microbials, fragrances, alcohol, or detergents. It is also 100% vegan. Instead of harsh surfactants, it is made with a sugar surfactant, which is mild but said to be able to remove makeup.
Ingredient list
Camellia sinensis (green & white tea), Aloe barbadensis (aloe vera) juice, vegetable glycerin, Simmondsia chinensis (jojoba) oil, Decyl polyglucoside (polyglucose), xanthan gum, Leuconostoc/Radish root ferment (Leucidal*), Gluconolactone (and) sodium benzoate (MicroGuard*), sucrose cocoate, Pelargonium graveolens (geranium) essential oil, Cymbopogon martini (palmarosa) essential oil, Andropogon zizanioides (vetiver) essential oil.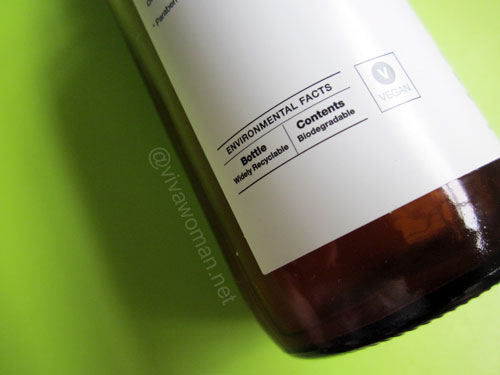 Distinctive scent
I like Marie Veronique Organics because they've got some of the best ingredient lists I've come across in the industry. The ingredient list for this product is no different and it looks really good. Most of their products also takes on a distinct smell of a certain ingredient within the formulation. This one contains geranium but I can't smell it. Instead, I'm overwhelmed by what is possibly the radish root ferment. It isn't a bad smell but it does remind me of food.
Doesn't lather, doesn't foam
I wish I can say I like this product but I don't. It doesn't lather and it doesn't foam and it's not creamy either. So I don't get peace of mind using this to remove my makeup. If using this alone, I have to use it three times just to be sure. In the end, I used this cleanser only in the morning but even then, I find myself double cleansing because I could still feel some oiliness on my nose area after one wash. However, it did work a bit better with the Konjac sponge.
Price
This cleanser doesn't work so well for my combination skin but it might work a bit better for those with drier skin. Or if you're the sort who likes using non-foaming cleansers, then you might take to this better than me. The Marie Veronique Organics Cleanser retails at US$32 for 120ml and is available at their website. If you ask me, my favorite cleanser in their slate is still the Exfoliating Cleanser, which to me, does a better job of cleansing and smells absolutely lovely.

Comments