Kelly Edwards Skincare giveaway: 5 sets for 5 winners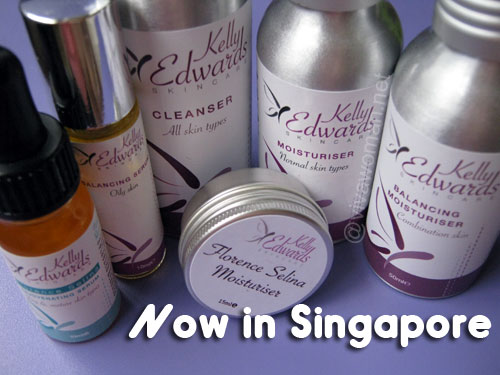 Remember Kelly Edwards Skincare that I introduced sometime ago? The brand is now available in Singapore at Glamogirl! For those who aren't familiar with the brand, Kelly Edwards Skincare is a range of affordable, cruelty-free and botanical-based products handmade in small batches in Wales, UK. The products are formulated with botanical-based ingredients containing essential nutrients and antioxidants, without the nasty petrochemicals.
Vegan friendly range
So the range also does not contain ingredients such as Sodium Lauryl Sulfate (SLS), Sodium Laureth Sulfate (SLES), mineral oils, synthetic perfumes or dyes, parabens or lanolin. Ingredients used are ethically sourced and organic where possible. And except for the lip balm, all products from Kelly Edwards are vegan friendly. I'd tried some of their products and liked some of them – like their red clay mask, balancing serum, facial cleanser and eye gel.
S$500 worth of products for 5 winners
Anyway, to celebrate their availability in Singapore, 5 sets of skincare each comprising a 100ml cleanser, a 50ml toner and a 50ml moisturizer all worth about S$500 will be given away. The best part is that each winner will get to choose the moisturizer suitable for their skin type – whether it's combination, blemish prone or sun-aged.
Giveaway details
Okay, only two easy steps are required to participate in this giveaway:
1. Tell me why you want to try the Kelly Edwards Skincare range.
2. Be a fan of the GlamoGirl Facebook Page.
(Remember to include your Facebook name in your answer to #1.)
Example of a valid entry:
I want to try Kelly Edwards Skincare range because I've heard so much about it and it sounds like something I can use. I definitely like to try their red clay mask because it looks so interesting. Btw, I'm a fan of the GlamoGirl Facebook Page and my Facebook name is JiaJia.
This giveaway is open to all readers with a local Singapore address. It will close Wednesday, 21 November 2012 and the 5 winners will be picked by the team at GlamoGirl and announced on the Viva Woman Facebook Page. So want to get your hands on this range? Then enter right away!
Comments