Giovanni Golden Wheat Shampoo & Styling Foam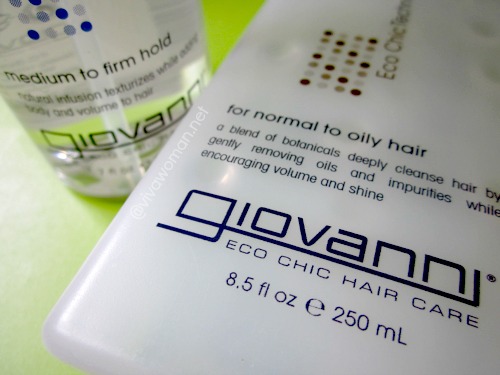 I've been seeing this brand at Beauty Language for a long time but only decided to try it after a colleague told me about the shampoo. So I bought the Giovanni Golden Wheat Deep Cleanse Shampoo and the Giovanni Natural Mousse Hair Styling Foam and ended liking one of them very much. Well, can you guess which product gained my favor?
Nature and eco chic inspired
Before I review the products, let me introduce the brand briefly. Giovanni was founded in the 1970's in US and the products are inspired by nature and eco chic. The company now has over 100 products ranging from hair care to body care and most recently, skin care. Although some ingredients used are USDA Certified Organic, the brand is not certified organic. Giovanni range of products are said to be formulated as natural as possible without sacrificing total performance. The brand does not test against animals and the formulas are free of laurel/laureth sulfates, phthalates, parabens, PEGs and most are free from synthetic fragrances. Most formulas are also suitable for vegans.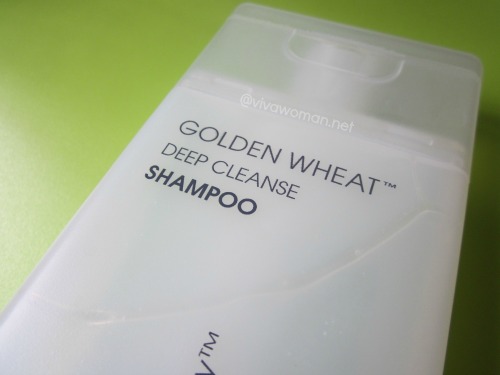 Giovanni Deep Cleanse Golden Wheat Shampoo
Ingredients: Aqua (purified water) Aloe Barbadensis (aloe vera) leaf juice, Sodium Cocoamphoacetate, Lauryl Glucoside, Sodium cocoyl glutamate, sodium lauryl glucose, carboxylate, decyl, pantehna, tocopheryl, acetate, polyguatenium7, potassium sorbate, citric acid, polysorbate 20, phenoxyethanol, Rosamarinus officinalis (rosemary) leaf extract, urtica dipca (nettle) extract, thymus vulgris (thyme) exttract, chamomilla recuita (malricaria) extract, salvia sclarea (clary) leaf extract, Lavandula angusifolia extract, achillea millefolium (yarrow) extract. equiseturn avense (jorsetail) extract, mentha viridis (spearmint) leaf oil.
ingredients
This shampoo is designed for normal to oily hair and is gentle, but effective in cleansing both the hair and the scalp. It has a slight peppermint scent due to the spearmint leaf oil and lathers up well. I've been using it for over a month and found it to work quite well to keep my scalp less oily and does not cause my hair to be flat nor limpy after every wash. In fact, I'm so pleased with it that I've ordered my second bottle.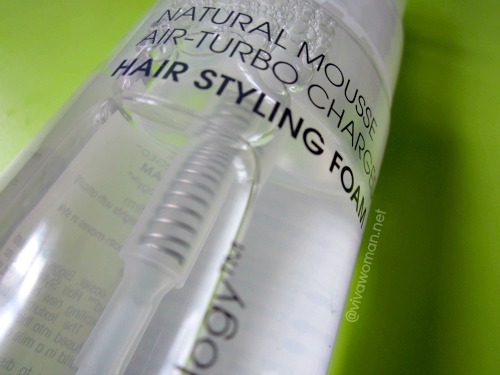 Giovanni Natural Mousse Hair Styling Foam
Aqua (purified water), VP/VA copolymer, tocopherol (vitamin E), *aloe barbadensis (aloe vera) leaf juice, *helianthus annuus (sunflower) seed oil, *glycine soja (soybean) seed extract, *betula alba extract, *malva sylvestris (mallow) extract, *achillea millefolium extract, *chamomilla recutita (matricaria) flower extract, *equisetum arvense extract, *lavandula angustifolia (lavender) extract, *rosmarinus officinalis (rosemary) leaf extract, *salvia sclarea (clary) extract, *thymus vulgaris (thyme) extract, *tussilago farfara (coltsfoot) flower extract, *urtica dioica (nettle) extract, citric acid, phenoxyethanol, natural fragrance
*USDA Certified Organic
ingredients
I bought this on impulse and sort of regretted as I've stopped using it after just two times. I dislike the texturizing effect as my hair strands get stuck together and I feel it doesn't lift up the volume in my hair. I would say it's more of a styling product to keep flyaway hair in place as I don't get too much body out of it. It might work better for those with wavy or frizzy hair but it's just a complete waste of money for me.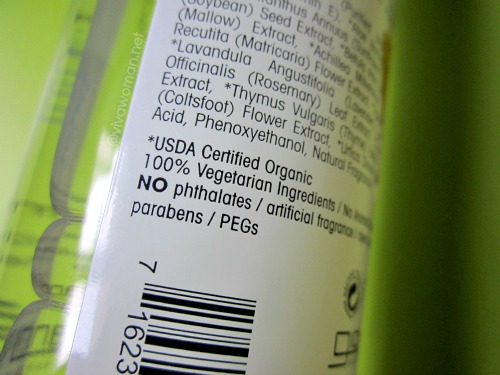 Price and availability
I don't remember the exact prices of the products but the Giovanni Deep Cleanse Golden Wheat Shampoo cost around S$12+ while the Giovanni Natural Mousse Hair Styling Foam was on offer at around S$10+. As mentioned, they're available at Beauty Language but I'm ordering my second bottle from iHerb for US$6.03, which is well reviewed by 208 reviewers. The Giovanni Natural Mousse Hair Styling Foam is also well reviewed by 126 reviewers and cost US$6.27 from iHerb.

Comments