Rev up hair power with Giovanni Root 66 Max Volume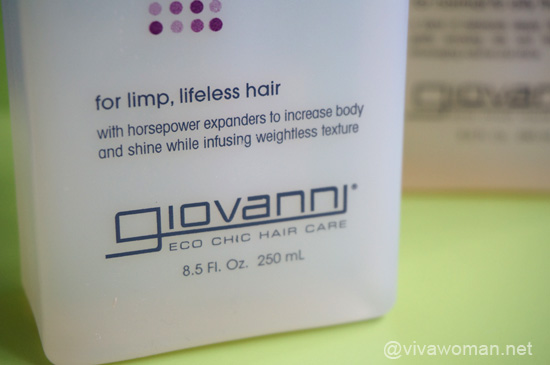 Next to deodorants, I'm most reluctant to change shampoos once I've found something that works for me. Hair is a big deal for me and keeping it looking great has been a key lifelong goal. But I'm still curious and once a while, I'll take an excursion to venture something new. I'm currently using the Giovanni Golden Wheat Deep Cleanse Shampoo but have been alternating that with the Giovanni Root 66 Max Volume Shampoo. Yes, anything that promises to increase body to limp and lifeless hair gets my interest all the time.
Good user rating
I wonder why I didn't take notice of this shampoo back when I was first checking out the brand. Was it because I'd missed it or was it because I had made my choice based on the best rating? Afterall, the Giovanni Golden Wheat Deep Cleanse Shampoo I've been using is more popular. But the Root 66 Max Volume Shampoo isn't doing too badly either with 4.5 out of 5 rating from over 150 users at iHerb.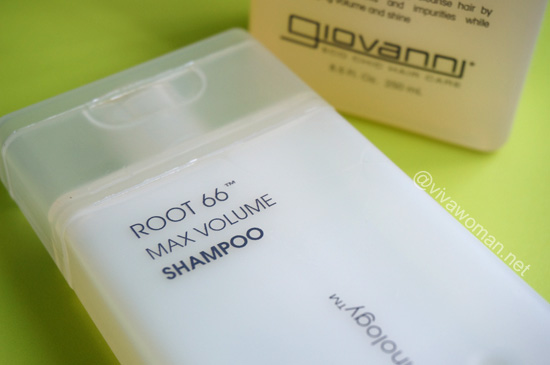 Giovanni Root 66 Max Volume Shampoo | 250ml, US$5.57
"For limp, lifeless hair"—how I hate reading this! Yet, it aptly describes the state of my hair and why I need this product. But Root 66? A shampoo revving with horsetail horsepower expanders to add max volume and max life to hair that's limping along through life? I'll say that's some clever marketing copy but will that translate into real horsepower performance to increase body and infuse weightless bounce for my hair? Let's see.
Delivers somewhat
When I first started on this shampoo, I was not too impressed because I couldn't see much of a difference. But since it cleanses my hair well and does not weigh it down, I continued using it, alternating it with the Golden Wheat Deep Cleanse. It was probably about a week or so later that I noticed a difference to my hair, especially on days when I didn't use it. My hair appeared somewhat limp. That was when I realized this Root 66 Max Volume Shampoo delivers although I would hesitate to agree that it delivers "big time volume". I think that happens when I supplement with another hair volumizer product. On its own, the volume is rather limited.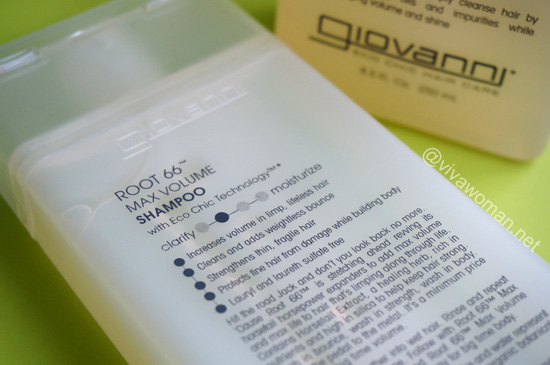 No SLS/SLES
Containing horsetail extract, a healing herb, the Giovanni Root 66 Max Volume Shampoo is rich in organic oils and high in silica to help keep hair healthy and strong. Although this shampoo does not contain SLS or SLES, it still lathers and foams well with Cocamidopropyl Betaine and Polysorbate 20 as its surfactants.
Ingredients
Giovanni range of products are said not to have been tested against animals and the formulas are free of laurel/laureth sulfates, phthalates, parabens, PEGs and most are free from synthetic fragrances. Most formulas are also suitable for vegans. However, I remember a reader pointing out that the Golden Wheat Deep Cleanse contains polyquatenium 7, which is a deravative of Formaldehyde. I noticed it's also in this shampoo according to the following ingredient list:
Aqua (Purified Water) With *Mango (Mangifera Indica), *Kiwi (Actinidia Chinensis) Fruit Extract, *Papaya (Caroca Papaya) Fruit Extract, *Plumeria (Plumeria Acutifolia), *Aloe Vera (Aloe Barbadensis), *Horsetail (Equisetum Arvense), Awapuhi (Zingiber Zerumbef), *Soybean Protein (Glycine Soja), C12-14 Olefin Sulfonate (Coconut Derived), Cocamidopropyl Betaine, Polyquaternium 7, Dimethicone, Polysorbate 20, PEG-8 Caprylic/Capric Glycerides, Panthenol (Pro-Vitamin B5), Tocopherol (Vitamin E), Phenoxyethanol, Fragrance With Essential Oils, acrylates copolymer. * Certified Organic by Guaranteed Certification Services.
Overall summary
Still, I quite like this shampoo because it does deliver bounce for my hair. I will likely continue using it although I may just alternate it with the Golden Wheat Deep Cleanse. I think I've come to a stage where my hair is pass using the Golden Wheat Deep Cleanse. Just that I still have two brand new bottles on my shelf. Good thing is both shampoos are similar in price and hence, transiting from one to the other is practically painless.


Comments