Meet Gracie, the new guest blogger at Viva Woman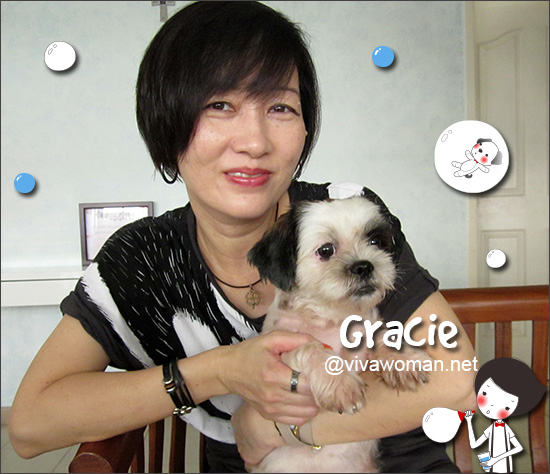 Hey everyone! I'm so happy to introduce you to Gracie, the new regular guest blogger at Viva Woman and I suspect she's gonna steal some hearts even before she starts her stint. She's no wordsmith but she's a pro at posing for photographs so I suspect her strength is really to be a photo blogger. But having said that, I'll like to qualify that even though she's of few words, she definitely has a voice even if it's just to say "WOOF!"
Gracie, by the way, is a Shih Tzu and she's about a year old. I got to know Gracie through Facebook. Well, a friend had posted that Gracie was looking to live in a new home and I decided that mine is the one for her! She's definitely gonna get lots of love living with me and my family.

Anyway, keeping a dog is not new to me. I had a cross breed Shih Tzu for 10 years before my son was born. After she passed away, the longing for a dog lingered in our hearts but we were not ready to take care of one when my son was younger. In addition, I was worried that my son would bully the dog and that's why we decided to wait till he's older. And now that he is, we're ready to take on the commitment and responsibility as a dog parent.
So since sometime last year, we started looking out for a new dog. We visited some pet stores but we realized that we weren't quite keen on purchasing a new puppy. So Gracie is really, a blessing for us. Her name by the way means, blessing from God! And she has such a sweet temperament! Although she has just been with us since yesterday, she's adapting fairly well already. I'm really glad for her for ours is the third home she's staying. The owner had given her up and she was taken in to a fosterer's home prior to coming over. I was told by the fosterer that she was badly neglected when they picked her up and so I can imagine she must feel somewhat insecure.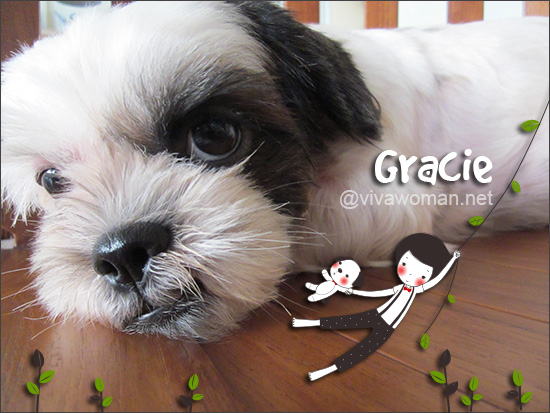 She has been following me round all day and has been behaving really nicely. My son has taken very well to playing with her too so I'm really thankful. I wasn't that good at handling my old dog in the sense that I was just playing with her and taking care of her needs but not leading her. So with Gracie, I really want to get things right. I've been reading up information on the Net and trying to watch some Cesar Milan videos but funnily, I was told that not everything he teaches is applicable. Oh well. I also want to make sure she's fed right so if you have any good doggy diet menu, please share.
In the meantime, I hope you'll join me to welcome Gracie. (#k8SjZc9Dxk_#k8SjZc9Dxk)
Comments