Should you not wash your face in the morning?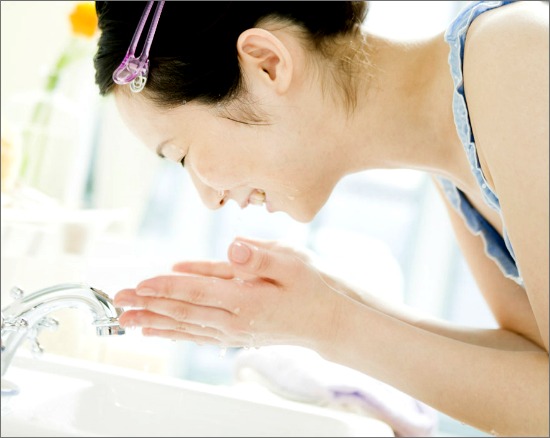 Oh wow, Huffington Post really made a big deal out of Michelle Phan's lack of morning facial washing routine. The whole headline just screamed, "Michelle Phan: I don't wash my face in the morning". Many of her young followers going through their puberty and following her advice based on that headline might just end up wondering why their skin isn't half as nice as hers. What they don't realize is that she is saying one thing but doing something else.
Michelle Phan was commenting on how a few things that keeps her skin from breaking out and that includes drinking lots of water, lots of green tea, put on sunscreen and then not washing her face in the morning. However, if you read carefully, she does wash her face, just that she doesn't use a facial cleanser.
And I don't wash my face in the morning. I know that might sound gross to some people but essentially when you're sleeping and your pillows are clean, all you need to do in the morning is wipe down [your face] with a wet cloth. A lot of the times when you're constantly washing your face over and over again, it dries the skin and your skin will produce more oil which causes breakouts. So it's all about keeping balance on your skin and applying a light moisturizer in the day time.
She washes her face all right because she uses a wet cloth. She just doesn't use a facial cleanser. Strictly speaking, someone who doesn't wash her face is someone who does nothing to her face or just splash some water over her face without any other aid.
Anyway, I have no idea why people are so interested in this topic or are encouraging others not to wash their face in the morning. Is it because they are trying to save their water bills? Is it because they're lazy? Or is it because they want to sleep in longer?
While I agree that our skin is not so dirty in the morning, washing with a cloth or with some cream cleanser is still ideal because you're priming your face for the day ahead. You may like to know that you're encouraging blood circulation to your skin when you wash your face. Plus, depending on what you apply the night before, you might just have accumulated some dead skin and oil build up. It's definitely wise to wash them off in the morning before you apply more products on your skin.
Anyway, Michelle Phan is not the only celebrity endorsing this weird routine. Salma Hayek is saying the same.
One strange tip—don't wash it in the morning, at all, never. Because at night your skin is rebuilding some of the oils that you need to keep your skin young, and it balances the PH. So in the morning if you take them off—you can splash it with water, do something mild—but you don't want to get rid of that. And if your skin is dirty in the morning, it means you didn't clean well at night.
I think Salma Hayek is more extreme than Michelle Phan but if you read what she's saying carefully, she is just advocating a mild face cleansing process.
If you've been reading these articles wondering if you should wash your face in the morning, I hope this clears up for you. The whole idea is not to over cleanse your face. Cleanse with a non-soapy cleanser or creamy cleanser but there's certainly no need to double cleanse.
So who's the brave one who is not washing your face in the morning? It's time to own up!
Comments