Hallyu Queen Song Hye Kyo loves DIY carrot flour mask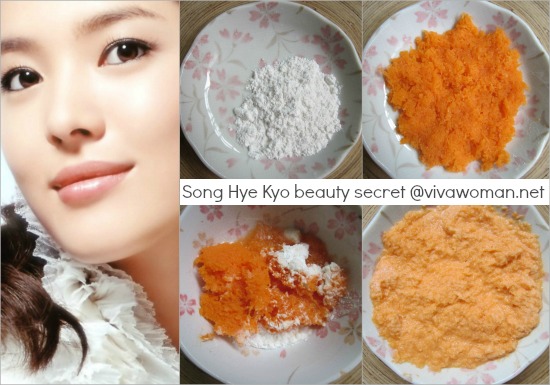 I don't watch K-dramas but there are a few Korean celebrities I love. Song Hye Kyo is one of them. That's why you find me using a lot of her pictures on this blog. Anyway, today, I'm sharing more than just her picture. I'm going to share with you one of her beauty secrets and it's a homemade DIY beauty tip I read from Soompi! It's really easy to rehash and the ingredients are probably right there in your kitchen now. Ready? Let's get on!
Ingredients and recipe
This DIY carrot flour mask really only requires three ingredients: carrot, flour and filtered water. The proportions of ingredients are 3 parts carrot, 2 parts flour and 1 part filtered water. Just grate the carrot finely, mixed it up with the flour and water. You can use oat flour or rice powder to replace the flour if you like. In fact, I prefer rice powder because of its skin brightening benefits.
Benefits of using carrot on skin
Carrot contains vitamin A and beta carotene. When used topically on the skin, it helps with hydration and can even out skin tone and give tired-looking skin some glow. When mixed with the flour, it can also work as a natural exfoliator. Actually, I used to like using carrots quite a bit in my DIY recipes until I got tired of grating.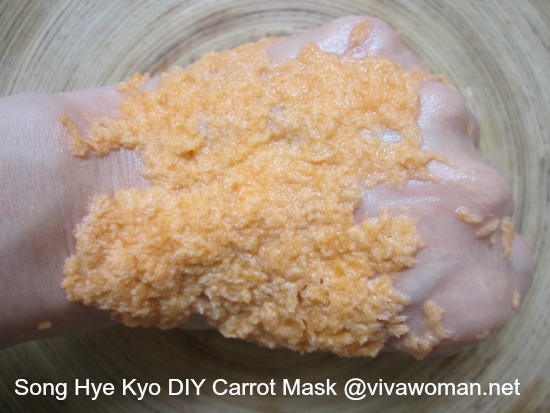 Use yogurt in place of water
When I first tried this recipe, I thought the carrot wouldn't stick well to my skin since there is no binder. But I think the flour does a good job of holding the grated carrot together like a paste. So don't be too generous with the water especially because the grated carrot already contain quite a bit of juice. Well, if you prefer, you can add yogurt instead of water.
One amongst many secrets
This is not the first time I've featured Song Hye Kyo's beauty secrets but this is the first time I've come across this recipe. However, don't think for a moment that her flawless porcelain clear complexion is due to using these DIY recipes. I'm very sure she has more gems in her skincare routine than these. Plus, she probably already has good skin to begin with.
Test for sensitivity
But if you're into DIY homemade recipe, no harm giving this a go. The ingredients are mild and should work quite well for most people. However, do exercise caution if you have sensitive skin because from what I've read in the forums, some ladies did experience allergic reaction after using this mask.
Have fun and hope you'll enjoy the carrot flour mask as much as Song Hye Kyo does!

Comments