China Celebrity Fan Bingbing wears sunsceen even when sitting in front of computer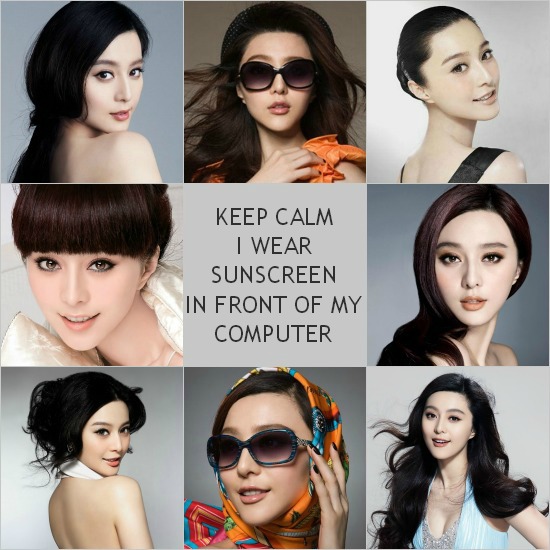 You know Fan Bingbing, the Chinese actress who will play Blink in the upcoming X-men movie? Yep, she's the one they ranked first on the "50 Most Beautiful People in China" at one time. I've seen some of her movies and must admit that she is gorgeous. But I had no idea nor interest on how she maintains her skin until I read her interview with CNNgo.
When asked about her perfect complexion, the actress said, "I carry an umbrella when I am outdoors and always wear sunscreen, even when I am sitting in front of a computer screen!" Wow. While many actresses are already dispensing advice about wearing sunscreen, Fan Bingbing up the ante by taking sun protection to the extreme! So should we be following suit to wear our sunscreen even in the night when we're surfing the web on our computers or laptops?
No UV light
Unfortunately, it doesn't help when we have reports of youngsters who spent 7 – 8 hours on their computers daily and developing skin pigmentation disorder as a result (source: Indian Express). However, I've also mentioned that based on my research and even discussions with my husband who is well versed with monitor displays, most of the flat-panel, or LCD monitors on our desktop computers or laptops have not been found to emit any UV light (source).
Anti-glare
This is nothing to lose sleep over unless you're still using those large, box-shaped monitors known as CRT monitors that emit low levels of UV light. You don't have to whip out your sunscreen as an anti-glare computer screen is standard on most LCD monitors these days. However, that does not mean you should be spending long hours in front of your computer or laptop or iPad as doing so can aggravate dark eye circles and cause crow's feet due to the stress to your eyes.
Pore clogging
Is Fan Bingbing's beauty ritual redundant then? Well, no. I actually like the idea as more protection is always better but it's impractical especially if we're talking about wearing sunscreen even at night as you'll need to wash it off prior to heading to bed. Why? I wouldn't recommend wearing a sunscreen to bed unless you're certain yours does not clog your pores.
Other beauty rituals
Anyway, besides using an umbrella and sunscreen, Fan Bingbing claims that she never touches coffee or other caffeinated drinks. In addition, she uses facial masks diligently. "I use at least two a day—one for moisturizing and one for whitening. I think I go through at least 600 sheets of facial masks every year (source). This lady is truly "fierce" when it comes to caring for her skin!
So are you inspired by Fan Bingbing's beauty secret? Would you wear your sunscreen even at night just to surf the web?
Comments