Alima Pure Mineral Makeup: safe vivid colors for face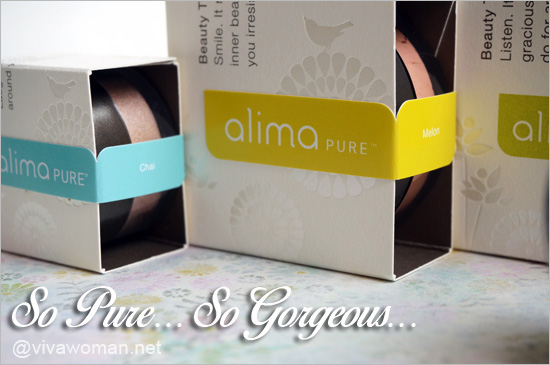 I first tried Alima Pure Satin Matte Mineral Foundation in 2007. Although it wasn't a glowing experience due to the wrong shade for my skin tone, I did mention my willingness to give the product another go. Just that I didn't realize it will take me almost seven years for that to happen. But to be fair, I'd laid off mineral makeup for a few years so it was almost impossible for me to evaluate the brand any sooner. Though late, I was able to test not just their foundation this time, but their eye and lip products too. So is this going to be a better review for Alima Pure? Well, read on to find out!
61 shades of foundation
The thing about Alima Pure, besides the fact that their products are free of parabens, talc, chemicals, gluten, dyes and nanoparticles, is that you will definitely be able to find a color to match your skin tone. How can you not when they have 61 shades of foundation? But with the gamut of choices means you'll have a daunting time trying to figure out which shade works and which shade does not. But the good thing is that the company offers samples at US$1.75 each, and this allows you to figure the colors out before committing to a full size item.
BDIH-certified
Before I tell you more about what I've been playing with from the brand, I just want to highlight that all Alima Pure makeup products are certified natural through the non-profit Association of Industries and Trading Firms for pharmaceuticals, health care products, food supplements and personal hygiene products (BDIH). BDIH takes the rigorous European Cosmetic Directive one step further by carefully evaluating the ingredients product seeking certification. In addition, Alima Pure products are cruelty-free, and all of their powder products, as well as their makeup brushes, are vegan. Apparently, their Natural Definition Mascara and Lip Tint are not vegan but are still cruelty-free.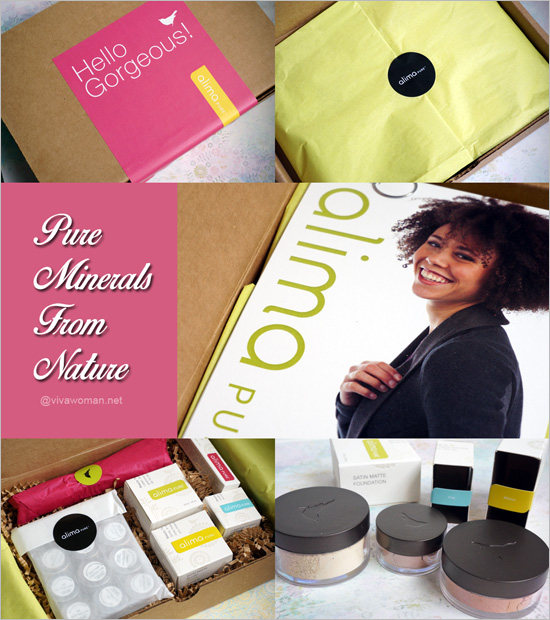 What's in my Alima Pure Starter Kit
It was a few weeks ago that natureLova, an online ecoluxe apothecary based in Singapore that I've worked with on various occasions, sent me a pretty Alima Pure starter kit which consists of:
– 1 Full Size Foundation – Warm 1
– 1 Full Size Blush – Melon
– 1 Full Size Eyeshadow – Chai
– 1 Foundation Brush
– 1 Lip Tint – Mango
– 1 Pack of Product Minis: includes 12 samples selected to represent the key product categories
I have to say Alima Pure has got very lovely packaging that is both clean and pretty. I'm quite sure many gals are taken in by that little birdie already.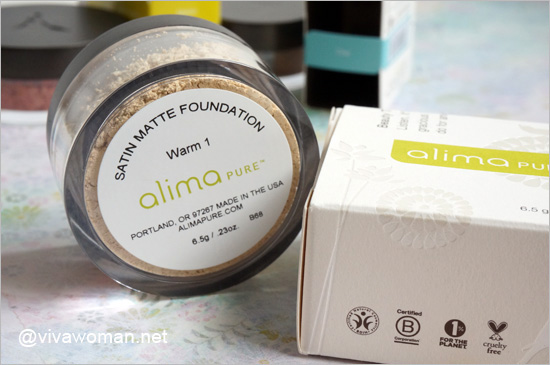 Alima Pure Satin Matte Mineral Foundation | 7.5g, S$42
The last I tried this foundation, I was recommended the Chiffon N-1, a pale neutral tone, which didn't work for my face at all. But this time, I'm most happy to say that the Warm 1 shade that natureLova sent me was perfect! The mineral foundation offers medium coverage but yet is very fine, silky and weightless, going on easy on my skin and feeling like nothing at all. I could use it on its own or over a makeup base. Whichever way I use, it definitely evens out my skin tone, enhances my complexion and reduces the appearance of fine lines and pores.
I won't be surprised that Alima Pure actually improved the formula over the years even though their ingredient list remains minimal, just Mica (CI 77019), Titanium Dioxide (CI 77891), Zinc Oxide (CI 77947), and Iron Oxides (CI 77491, CI 77492, CI 77499). Totally loving it!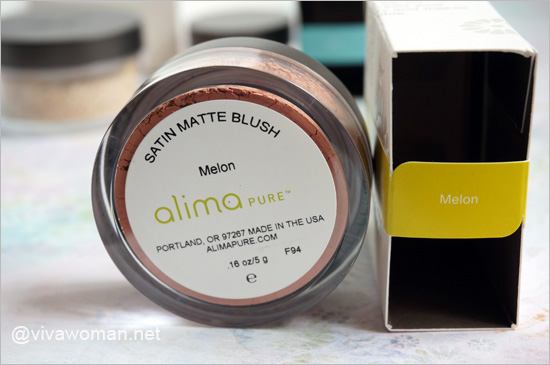 Alima Pure Satin Matte Blush | 5g, S$34
I don't wear blush even though I should to get a bit more color on my pale skin. But I can no longer motivate myself to use it even if it's just for a photo. So sorry, I can't review the product except to tell you that this blush consist of only Mica (CI 77019) and may contain [+/-]: Iron Oxides (CI 77491, CI 77492, CI 77499), Titanium Dioxide (CI 77891). Nothing more.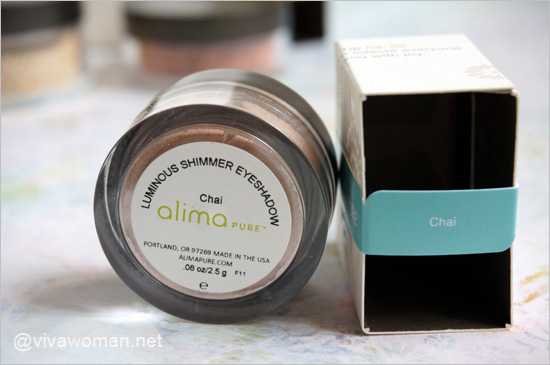 Alima Pure Luminous Shimmer Eyeshadow | 2.5g, S$22
I was slightly leery of the shimmer in this eyeshadow but it turned out very natural looking and the best part, it didn't fade or creased that easily even without priming my eyelid. I was really impressed because for a long time now, I've stopped wearing eyeshadow because all my eyeshadows just disappear after a few hours on my oily eyelids. Even the most raved non-natural eyelid primers from Urban Decay and Two-Faced did nothing to help them. But this luminous shimmer eyeshadow was different. I could still see the color after a few hours and I didn't have to prime my eyelid at all! Woo hoo!
And again, the ingredient list is very short, just Mica (CI 77019) and may contain: Titanium Dioxide (CI 77891), Iron Oxides (CI 77491, CI 77492, CI 77499), Ferric Ferrocyanide (CI 77510). Nothing more.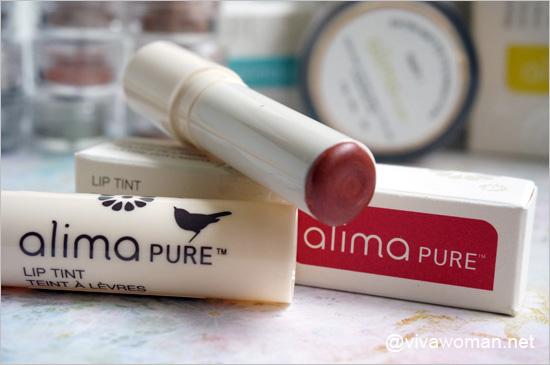 Alima Pure Lip Tint | 3.6g, S$28
This lip tint is better than some of the lipsticks I've tried. It's very moisturizing and at the same time, richly pigmented. You can say it's a lip balm with color. The only gripe I have about the product is the packaging. Covering the lip tint takes a bit of delicate skill in order not to get the lip tint color all over the sleeve. As it is, my fingers are fat and I usually get some of the tint on the sleeve and end up wiping off the stains from the lip tint case after each usage. Besides the mango shade that I used, Alima Pure Lip Tint comes in:
Cranberry – warm burgundy
Fig – shimmering bronzed plum
Holly Berry – spiced rose
Lotus – this Limited Edition Lip Tint for Spring is a sheer glowing berry
Mango – shimmering coral
Rhubarb – medium neutral pink
Sweet Pea – shimmering rose
In terms of ingredients, the list is rather clean with Organic Theobroma Cacao (Cocoa Seed) Butter, Organic Carthamus Tinctorius (Safflower) Seed Oil, Organic Ricinius Communis (Castor) Seed Oil, Organic Beeswax, Organic Olea Europaea (Olive) Fruit Oil, Organic Camellia Sinensis (White Tea) Oil, Candelilla Wax, Organic Cocos Nucifera (Coconut) Oil, Organic Cucurbita Pepo (Pumpkin Seed) Oil, Organic Punica Granatum Linn (Pomegranate Seed) Oil, Organic Simmondsia Chinensis (Jojoba) Oil, Tocopherol, Vanilla Planifola Essential Oil, Organic Punica Granatum Linn (Pomegranate Seed) Extract. May contain [+/-]: Mica, Titanium Dioxide, Iron Oxides.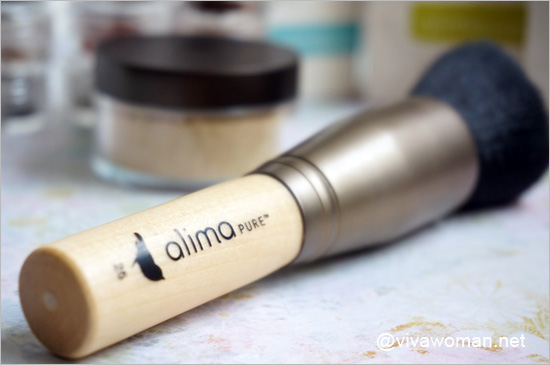 Alima Pure #25 Foundation Brush | S$46
I wasn't expecting much when I first use this brush. I thought I might have to resort to Real Technique Expert Face Brush to do the job well but I was wrong. Turned out, the Alima Pure #25 Foundation Brush is a great asset when used with the Alima Pure mineral foundation. It doesn't accentuate my pores or lines even after applying a few layers of foundation. More importantly, it's so soft. I'm completely sold! No wonder this foundation brush has a cult following!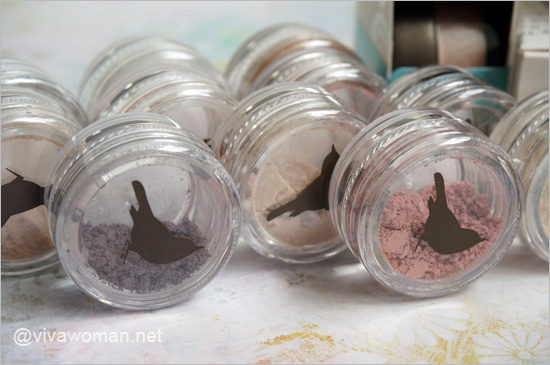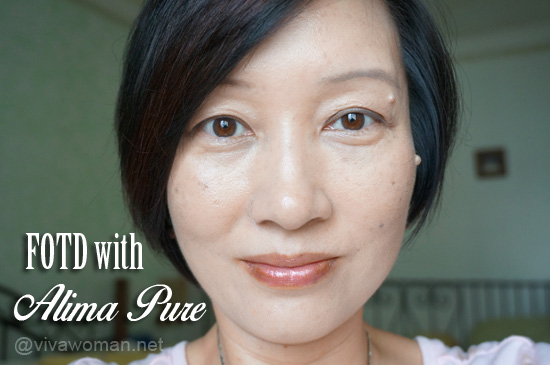 Overall Summary
I used to wonder what was the fuss over Alima Pure but I can see why now. I'm completely sold on the brand and would highly recommend it if you're keen on mineral makeup. For one, there are so many products with sparkly, satiny and vivid colors to play with. Yet, they are made with no toxic ingredients. And at the heart of it, the mineral foundation gives a very natural finish, does not oxidize much at the end of the day and I don't need a heavy hand just to get sufficient coverage. The only challenge is to find the right foundation shade and that might take some time. But like I mentioned, get the samples to try before committing to the full sizes and you'll save yourself a lot of heartaches since the prices aren't cheap to begin with.
Availabiliy & A Promotion
The range of Alima Pure Mineral Makeup introduced here is available from natureLova, which is based in Singapore. You can get 15% off by using coupon code "ALIMA15" when you check out. If you're based in Asia and can't find Alima Pure where you are, you may like to order from natureLova as they do ship internationally. For the rest of you living in US or nearer to US, I suggest you check out Alima Pure's website directly.

Comments