6 things not to overdo to your skin in 2015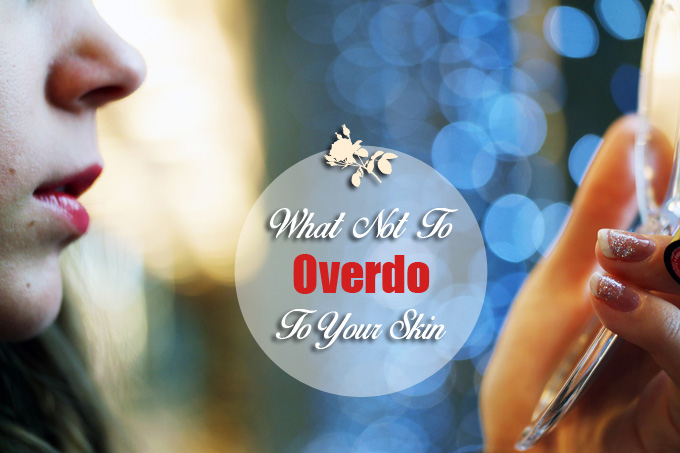 We all want younger looking skin yesterday. So not surprisingly, there is a natural tendency to go overboard when it comes to skin care. But you know the saying that too much of a good thing is bad right? The word "over" can be quite a dirty word if we're not careful. Well ladies, it's time to examine your skin care routine to see how you can go easy in some areas.
1. Do not over wash
Just because you've been told to keep your skin clean does not mean you should wash it often. Too much washing will only remove the moisture your skin desperately needs and cause it to become drier. In most cases, over washing strips your skin of its natural lipids and cause it to go haywire–think overproduction of oil because the skin needs more oil to protect itself.
In addition, the pH level of your skin will be affected and can result in unexpected skin problems. I know of someone who bathed so much that his skin developed rashes and became allergic.
But how much is too much?
How about no more than twice a day?
Unless your face or body is exceptionally dirty, you should keep washing to just twice a day. I even recommend that you keep your morning face washing light, using a very gentle cream cleanser. You may double cleanse at the end of the day either with a foam cleanser or oil cleanser, depending on your preference or need.
2. Do not over use facial wipes
I'm not a fan of facial wipes. I told you why. But I'm apparently in the minority league because facial wipes are popular with many women. I admit that they are convenient for removing makeup or doing a quick cleanse when you're in a hurry. If you're a fond user of facial wipes, here's a piece of advice for you this year and beyond: don't overuse them and don't make a habit of using them in place of your regular cleanser.
Facial wipes do not do a good job of cleansing your skin. They usually contain irritating and drying ingredients like alcohol and fragrances. They're especially bad for skin around your eye area because of the rubbing involved. They'll also cause your skin care to be less effective.
So use those wipes only when absolutely necessary. Rinse off with a splash of water and wash your face with your good old cleanser.
3. Do not over exfoliate
Many of us are told that exfoliating can lead to visibly brighter, healthier and younger looking skin. Well, that is true. In fact, it can enhance the effects of your other skin treatments as exfoliating dead skin cells on the surface of your skin can aid your skin to be able to absorb some of the expensive creams or serums you've invested in. However, some women I know get over enthusiastic and go into an overdrive mode when it comes to exfoliation.
Either they're scrubbing way too frequently with the electronic facial brush, or using strong ingredients such as AHAs, BHAS, retinoids, fruit enzymes, salicylic or glycolic acid excessively. What they may not realize is that while regular exfoliation can buff skin into perfection, it can also buff skin into sensitivity, resulting in painful rash and raw looking skin. On top of that, over-scrubbed skin can also cause oil production to speed up because skin's natural repair mechanism is put into overdrive.
So how much exfoliation is appropriate to maintain healthy skin?
I would recommend no more than twice a week of exfoliation for most skin types. However, should you want to speed up skin healing after a bout of acne breakout, you may exfoliate every other day for a period of two weeks before reverting back to a normal schedule of twice weekly. In that case, you may want to refer to my post on 5 gentler ways to exfoliate your skin for a better idea on how to go easy on exfoliation. Remember, while dead skin cells can contribute to dull looking skin, it is also there to protect the delicate living cells below.
4. Do not overuse too-hot water
The reason I'm not in favor of the oil cleansing method or using a cleansing balm is that these methods involve the use of hot water. Lukewarm water just don't cut the grease.
Now hot water is not only uncomfortable for the skin, it is drying. Many ladies don't agree because they tell me that their skin feels soft, smooth and nourished after using those oil or balm. Well, most sun damage do not appear immediately. The same is true for the use of hot water. So your best bet? Cut down on taking too-hot showers.
5. Do not over massage
Giving your face a light massage on a daily basis could make all the difference in the fight against aging. Massage can improve circulation, help to combat puffiness and give your complexion a healthy glow. However, some women go overboard and massage too much, too frequent, or too hard, causing their face to collapse. I've read some pretty traumatizing stories on the forums where ladies recount how their face shape changed for the worse when they went over-the-top with some massage technique.
Daily massage is fine as I do it too but keep the routine short and don't exert too much pressure when pressing any parts of your face. Think of it like exercise–you don't want to overstretch those muscles do you? In addition, know that when you over massage, you can be overstimulating your oil glands, resulting in acne breakouts.
6. Do not overuse products
It's great that skin care can do something for our skin but sometimes, too much of something may not be a good thing. So ease off those serums. Apply one or maximum two if you must. Beyond that, they can't be absorbed into your skin anyway and will become less effective. If you have different skin needs, alternate your serums.
Also, alternating helps to keep your skin in optimal condition. Say if you're always applying whitening/brightening products, they can take a long term toll by drying up your skin. Hence, sometimes, less is more.
So there. Six tips on what not to overdo to your skin in 2015 and beyond. Any of them a concern for you?
Comments