How to make your own Yusheng for Chinese New Year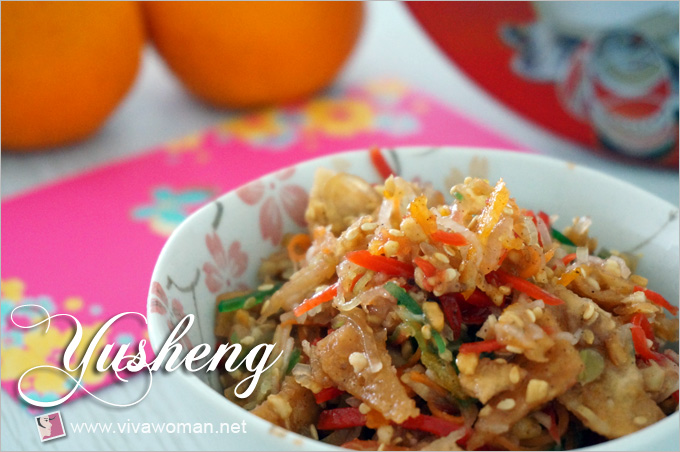 Abundant blessings and overflowing joy to all who celebrate Lunar New Year! We are into the second day of our 15-day celebration and I want to show you a dish I enjoy savoring during this time of the year. Well, it's none other than Yu Sheng, also known as the Chinese version of a raw fish salad. And does it fit into clean eating? I'll say yes, if you eat a healthier version of the dish.
Before I explain what constitutes a healthier version, allow me to explain more about this dish.
For those who don't know, the tossing of Yu Sheng, commonly referred to as "lo hei", is a common feasting ritual among the Chinese during Lunar New Year, symbolizing abundance and prosperity. Auspicious words are usually spoken when different ingredients are added in and the higher you toss the salad, the more abundance you'll receive. As a result of the desire to own more blessings, many people get carried away and toss the ingredients overzealously onto the table and floor. (-_-)
DIY Yusheng
I have a brother who is able to whip out a fantastic dish of the Yusheng salad, with quality surpassing most of the restaurants. He prepares the vegetables like shredded carrot, radish and lettuce using a spiral vegetable slicer. To keep the vegetables fresh, he soaks those shredded in ice water and then dries them using a vegetable spin dryer. He also adds freshly peeled pomelo and abalone slices. As for seasoning, he uses those pre-packed condiments and sauces bought from the supermarket.
Here's what he prepared during our reunion dinner two days ago.


The good thing about DIY Yusheng is that you get to control the amount of ingredients and seasoning. This naturally means that you can make a healthier version because while Yusheng consists of plenty of vegetables, it can be high in calories because of the oil, plum sauce and deep-fried crisps.
Healthy Yusheng recipe
So if you want a healthier version, try reducing ingredients such as oil, plum sauce and crisps. Or you can make your own using this recipe from Health Promotion Board.
DIY Healthy Yu Sheng Recipe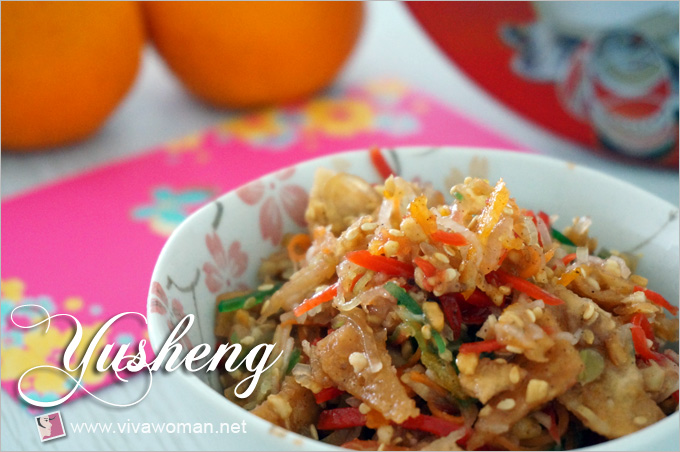 A healthy raw fish salad eaten during Chinese New Year.
Author:
Health Promotion Board
Ingredients
100g fresh salmon, thinly sliced
2 cups white radish, thinly shredded
2 cups carrot, thinly sliced
1 cup cucumber, thinly shredded
1 red capsicum, thinly sliced
1 tsp pickled ginger, thinly shredded
4 sprigs of fresh chinese parsley
¼ cup of chopped peanuts, roasted and unsalted
Toasted sesame seeds for garnish
1 tbsp five spice powder
¼ cup whole-wheat crackers, crushed
Dressing:
½ cup of plum sauce
1 tbsp lemon juice
¼ cup of water
1 tsp peanut/ corn oil
1 tsp sesame oil
⅛ tsp five spice powder
Instructions
To make the dressing, combine all dressing ingredients and set aside.
Arrange the fish slices in the centre of a large platter.
Place each type of vegetable in sections around the platter.
Sprinkle the pickled ginger, peanut, sesame seeds, parsley and whole-wheat crackers over the vegetables.
Evenly pour the dressing
You are ready to toss for good health!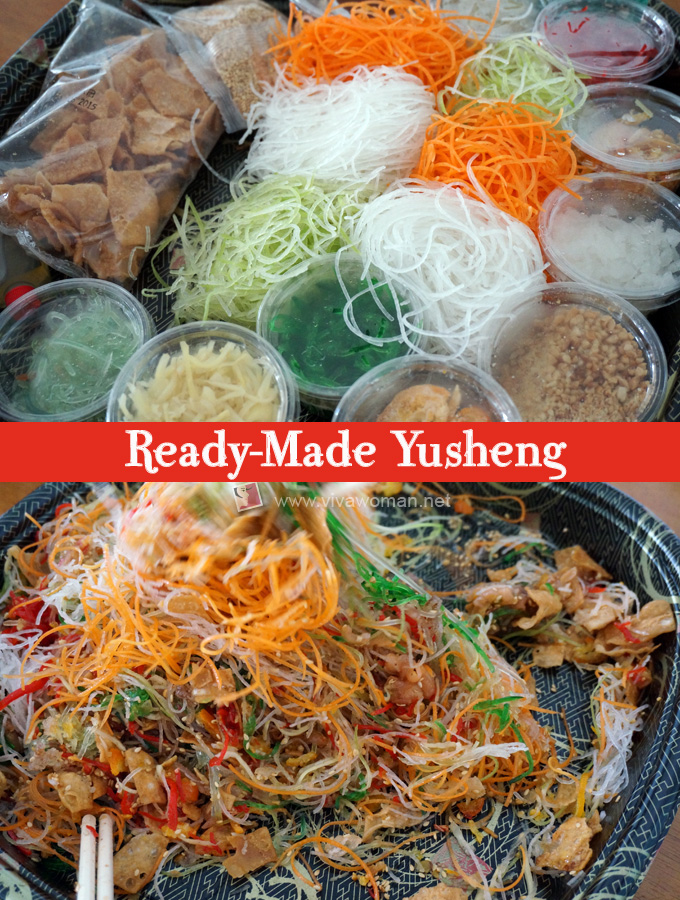 Buy ready-made Yusheng
If you're not keen to make your own Yusheng, buy ready-made ones instead. Yusheng used to be served exclusively in restaurants in the past. However, in recent years, you can find ready-made Yusheng in the supermarkets.
We like to get ours from Cold Storage because the quality is as good as what you find in most restaurants. For something like $32, you can get a sizeable portion of fresh vegetables and salmon slices complete with pickles, crackers, spice powder, peanut powder, toasted sesame and plum sauce.
I like the taste of Yusheng and certainly wouldn't mind eating this every day. However, I'm not quite prepared to make this on my own due to the time consuming preparation involved. So ready-made Yusheng is perfect for me.
How about you? Have you had your fill of Yusheng this Lunar New Year yet? Would you try making your own DIY Yusheng?
Comments