Radiant And Brighter Skin Tone With Organic Oxygen TM Facial + A Special Promo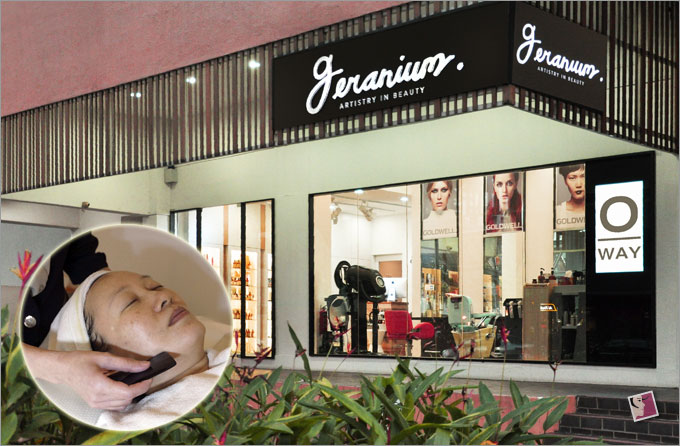 Is regular facial absolutely necessary? Well, no. I didn't have facial for a year or more and my face didn't suffer for it. But if you want to keep your skin in tip-top condition, then having regular facial treatments definitely helps.
While a good skin care routine will ensure that your skin is well cared for, you may still not be able to achieve the results of your desire. A good facial will yield you brighter skin that is instantly radiant and glowing that you can't get with just using the latest miracle lotion, face scrubs or masks.
And if you think you can skip facials because you've taken up aesthetic treatments, think again.
Most aesthetic treatments work on removing your wrinkles, lifting up your skin and erasing pigmented spots but they don't do anything to keep your skin hydrated and nourished.
As a matter of fact, many get drier skin if they have frequent sessions of laser treatments. This in turn means some sort of facial treatments is necessarily to counteract that drying effect. Even if there are aesthetic treatments that can improvement skin hydration, they probably cost more than a facial.
Remarkable results with Oxygen TM facial
So what's with my sudden inclination toward facial? Well, my complexion had a boost after a facial treatment recently. The results were fairly remarkable because a colleague commented that my face was glowing. And that was days after I'd the facial.
Now given that I take pretty good care of my skin on a daily basis, a facial treatment with telling results must be quite something right?
Okay, the treatment that I had wasn't just a typical facial. It was Geranium's Oxygen TM—an anti-aging, organic face treatment using French products that boosts cell renewal, oxygenates cells for optimal cellular performance, as well as preventing wrinkle formation.
I was surprised by the results, given that the products were all organic. I suppose the ingredients must be really effective. Here are the key ingredients that went into the treatment:
Chlorophyll to accelerate oxygenation and promote cell renewal
Sage for healing
Wheat germ vegetable oil to strengthen skin elasticity
Hemp vegetable oil that is rich in vitamin E, chlorophyll and fatty acids
Brown seaweed for increased cell oxygenation
Rosemary Leave extract for toning
Acerola for toxin elimination to brighten complexion
Aloe Vera for moisturizing and anti-inflammatory
Pink Pepper seed extract to activate microcirculation
Here are some pictures to show you how I look before and after the treatment (have tried to get the before and after lightings as close as possible). On top of the Oxygen TM treatment, I also had a Face Gua Sha. The brigher and radiant skin tone is quite telling after I've had the facial and overall, my skin is also more lifted and firm. I was most pleased that I didn't experience any redness even after the Gua Sha.
Excellent facial treatment
Some of you may have noticed my frequent mentions of Geranium Skin & Hair Boutique. This shouldn't come as a surprise considering I've been going to them for my hair cuts and treatments.
But this is my second facial experience with them after six years. My first was in 2010 when I had my Gua Sha Facial Therapy. Although I can't remember a lot of details, I recall that I'd enjoyed the facial because of relaxing shoulder and back massage during the facial. So has that changed?
Fortunately, some good things never change.
Geranium still offers excellent facial treatments. Here is one facial salon that is serious in delivering efficacious treatments to their customers, at the same time ensuring that their customer's skin is well taken care of.
The boutique does not believe in steaming that is so often included in conventional facial treatments. That's good news for me because I find steaming detrimental for our skin.
They also do not believe in painful extractions. This is why you won't experience redness that is quite common in other facial treatments. The therapists at Geranium use a special technique to extract the blackheads and the entire extraction is extremely gentle and effective.
As for the shoulder and back massage, they're extras that are incorporated to bring more comfort and relaxation to the customer. The timing of the massage varies according to each person's skin condition. If time was spent removing lots of gunk then less time will be devoted to massage.
No hardsell
Probably what's most worth highlighting is that Geranium is one of those few salons in Singapore that don't practice hard sell. I know many of you are afraid of salons that hardsell. I am afraid of them myself. In fact, this is something I'm very particular about before agreeing to take up a review.
I'm glad to report that Geranium does not hardsell. They also do not try to get their customers to change their entire slate of skin care products just so that they can sell them more stuff. This was what I gathered after overhearing one of the therapists talking to a customer. Because of that, I'd not hesitate to recommend them to anyone looking for a good facial salon.
Special promo
The Oxygen TM facial is suitable for all skin types. Duration of the facial is 120 minutes. Usual price is a whopping S$380 but Geranium is offering Viva Woman Readers at a special price of S$188 from now till 31 August 2016. You can also choose to add on a Gua Sha treatment for S$38 if you want to experience more facial lifting effects. Just mention Viva Woman to enjoy the discounts.
If you're looking to get an instant face boost, I highly recommend you to give this organic facial a try. This isn't your typical facial that gives you mediocre results but it'll give you an instant, radiant and glowing complexion that'll last for days. What's more, you'll get to enjoy a very relaxing facial session with their extra shoulder and back massage.
Geranium is conveniently located at No.26 Horne Road, BH Building #01-01 (5 minutes walk from Lavender MRT station). Look up Geranium Facebook for more information or call 6294 2581 to book your appointment.
Service highlighted was given complimentary & this review is in line with my disclosure policy.
Comments