I Love Cuddling Up On Mom's New Bed Sheet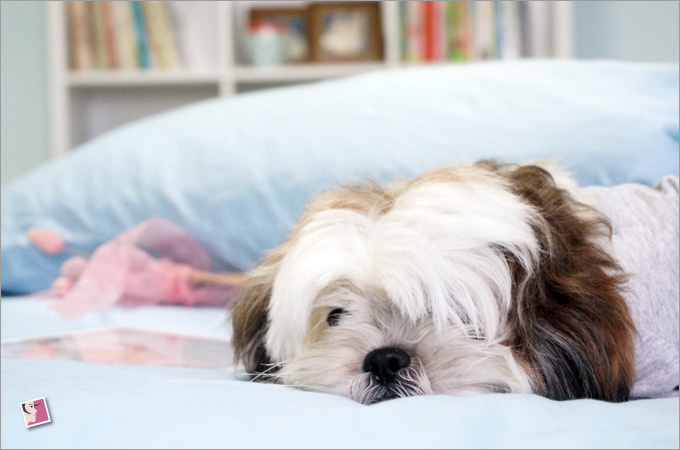 Hello. I'm Gracie and today, I am a guest blogger here.
As you can tell, I'm not a willing guest. I only jumped on the offer when mom let me have a roll on her bed. I LOVE HER BED and make it a point to jump on it when she's not watching. But I usually gets barked down so THIS offer is totally irresistible!
So I get it that my part today is to talk about her new bed sheet. What I don't get is what should I say? I'm better off just sleeping!
Okay, maybe I'll just repeat what she' told me. I need to earn my keeps. And staying atop the bed is far better than lying on the hard and cold concrete floor!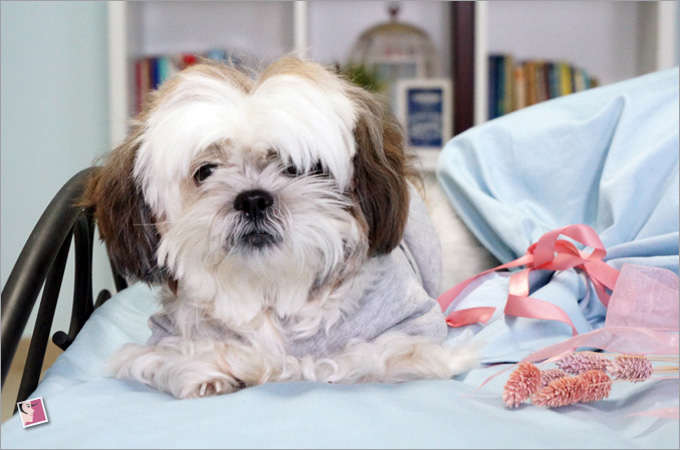 Mom received this from California Design Den. I see it's blue and it goes with the color of her bedroom. The sheet also fits her king-size bed well. Only hitch is…the pillow cases are too long for her pillows. But mom tied up the longer ends with ribbons and they look pretty on her bed!
Okay, I also know this is a 100% cotton sheet based on 400-thread-count weave. I remember hearing mom telling dad that the higher the thread count, the smoother the sheet. So why didn't mom ask for the ultra luxe bed sheet with 1000 thread count? DUH.
Before mom used this bed sheet, she had it washed and she said it's good it didn't ball up, wrinkle too much, or fade. I have no idea what she meant by balling up. I suppose it just means the quality ain't bad.
Anyway, this bed sheet is made in India for those who need to know the country of origin. Mom told me she likes the way they pack the bed sheet. She also likes the tips that were included with the sheet. Such as…to reduce wrinkles, she needs to remove the sheet quickly from the washing machine or dryer. Or that she also should not over dry them.
So what do I think of this bed sheet? I think the quality is okay but it's not exceptional. The material feels thick but not rough. It's soft enough but not silky soft. Still, it's comfortable enough to sleep in.
Only issue according to mom is…although the price is reasonable considering it comes with one king-size fitted sheet, one king-size bedspread, and two long pillow cases at less than US$50, I don't think mom is buying anytime soon with the shipping cost of almost US$20. I think she should just save it and spend it on me!
Maybe it makes more sense to purchase if you're in US especially since you can also get California Design Den beddings through retailers like Wayfair and Nordstrom Rack.
Whatever it it, I'm so happy mom let me rolled around in the new sheet. I couldn't have asked for more. The bed keeps calling out to me and I'll make sure to roll on it more often…when mom is not watching. Hee.
Products featured were given complimentary; this review is in line with my disclosure policy.
Comments