Review: Skin Food Eyeshadow Brushes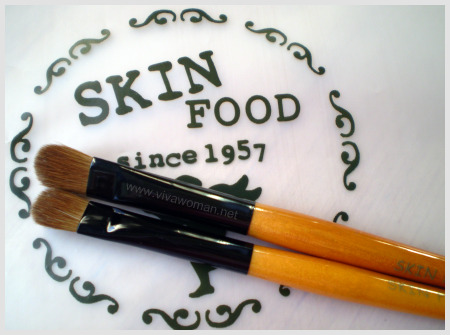 I bought the Skin Food Eyeshadow Brush (3) M on a whim some months ago. Their makeup brushes seem quite popular going by how quickly they were out of stock at that particular store and so I thought they must be quite good. Plus I was attracted to the wooden handles which make the brushes look very sturdy. 
Comfortable size easy for eyeshadow application
I'm not well versed in eye makeup and quite honestly, am not sure how to review such brushes. All I can say is that the Skin Food Eyeshadow Makeup Brush is of a comfortable length and size which picks up and holds the eyeshadows pretty well.  I've been using it to apply base color eyeshadows on half my lids and so far, I didn't have problems with my eyeshadow colors flying all over.  And because it is soft, dense and flat, I find it easy to apply the colors on my eyelid smoothly and quickly.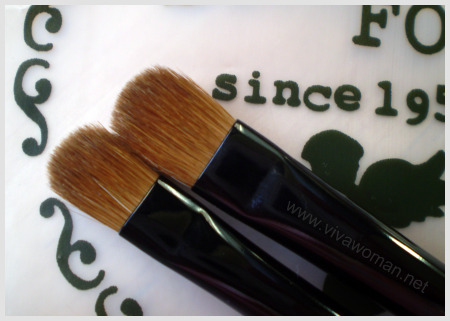 Animal or a mix with synthetic bristles
There is no indication what sort of hair makes the bristles of the Skin Food Makeup Brushes. The SA told me that it's animal hair but I won't be surprised if it's probably a mix with synthetic.
Other sizes of brushes available
Anyway, I was back in the store recently and decided to pick the Skin Food Brush (2B) L. It's as soft as the size 3 but a bit denser and is a good brush to apply eyeshadow on the entire eyelid. Although it's slightly broader than size 3, it cost the same price at S$12.30. In fact, most of the Skin Food brushes are retailing at that price, except for the blush brush which cost more and feels like a scratchy broom to me!
Overview
On the whole, the size and shape of these brushes make them functional for all-over-the-lid base shades application.  While the cost look decent,  I personally find it a tad costly.  But they do their job well and so I'm rather happy with them.
Comments