Why do my synthetic face brushes turn oily?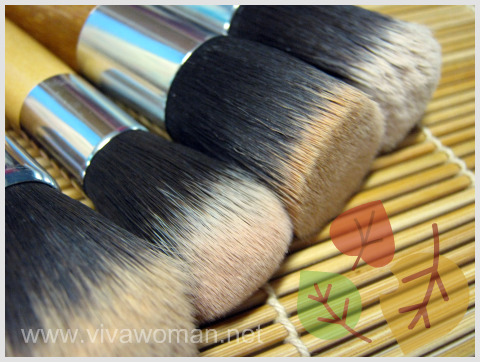 If you like using synthetic brushes, you most probably like it because they feel soft on your skin. I love them too and in fact, have stopped using brushes made with animal hair because they're rough to the touch. However, the problem with synthetic brushes for me is that after a couple of washes, they feel oily and the brushes don't retain their original shape anymore. Do you have a similar problem? I wash my brushes with a baby shampoo and body wash and initially I thought it was because I didn't wash them clean but after washing like two or three times repeatedly, the problem still remains.
Is it due to the moisturizing ingredients from the shampoo & wash?
The wash I use on my brushes contain moisturizing ingredients and I wonder if that's coating the hair bristles and making them too soft?  Maybe I should use something stronger to wash my face brushes…like a dish washing detergent?  But honestly, I don't think I can bring myself to use the brush on my face if I ever use a dish washing detergent.
Is it due to the seepage of glue from the ferrule?
Someone suggested it could be the glue seeping into the bristles from the ferrule. It seems a little bizzare to me but it might be a possibility since glue is used to seal the ferrule and when washing, water does wick back into the ferrule and cause the bristles to loosen after awhile. I've had one of my kabuki brushes come apart because of this issue.
Is it due to the absorption of oil into the bristles?
However, I wonder if it's because the bristles are absorbing the oil and grease overtime? I know that hair is often used to mop up oil spills but apparently, it seems that synthetic fibres can absorb up to 10 times more oil than actual hair (source). So perhaps that's causing my synthetic brushes to become greasier by the day even after washing?
Is it due to too frequent washing?
What do you think could be the reason?  I do love synthetic face brushes as they are great for applying foundation because their soft bristles makes blending easy.  But this oily problem is getting a little on my nerve.  Maybe I should not wash my brushes every other week.  Or maybe, it's just time to get more new brushes again.
Comments