Product review: multipurpose Steam Cream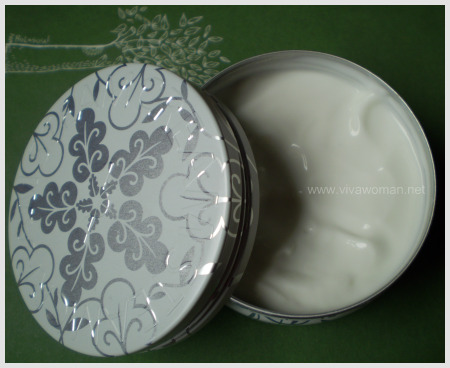 Finally I received my Steam Cream after a long wait! I ordered this through a spree and for the first time, I have to deal with a spree organizer who was highly irresponsible and inefficient. Anyway, this product doesn't fall under natural or organic but it's very interesting. I first learnt of it from a reader, Min Sin, who told me she loved the cream and indeed, I have to agree with her. In fact I would add that using Steam Cream can be addictive!
Multipurpose cream formulated with pure steam
Steam Cream is made in UK and marketed as a multipurpose cream uniquely formulated using pure, unrefined steam for maximum absorption. And it does exactly what it promises – improves the appearance and softness of the skin. According to information from the website, Steam Cream uses a revolutionary steam-infused manufacturing process and provides a long-lasting, intensive and effective form of skincare that can be used on face, body and hands.
Steamcream have pioneered the use of a steam technique to create this unique, gentle and loosely-bound emulsion. This looseness allows each ingredient – including a moisturising and soothing oatmeal infusion, orange flower water and healing lavender oil – to breakdown and penetrate areas of the skin that other creams find hard to reach.
Rich but lightweight and non-greasy upon absorption
The force and intensity allow the ingredients to emulsify instantly, producing this beautifully textured light and glossy cream.  The result is a soft, luxuriant and glossy cream. In terms of look, it reminds me of Nivea cream but it feels entirely different. While it feels rich on contact, the texture is lightweight and absorbs quickly without leaving a greasy residue. I love how my hands feel after applying this on them!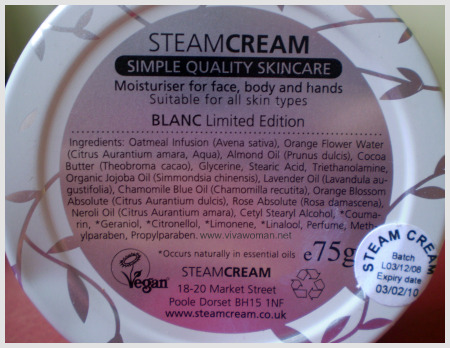 Ingredient list
These are the ingredients and at one glance, they look almost natural:
Oatmeal Infusion (Avena sativa), Orange Flower Water (Citrus Aurantium amara, Aqua), Almond Oil (Prunus dulcis), Cocoa Butter (Theobroma cacao), Glycerine, Stearic Acid, Triethanolamine, Organic Jojoba Oil (Simmondsia chinensis), Lavender Oil (Lavandula augustifolia), Chamomile Blue Oil (Chamomilla recutita), Orange Blossom Absolute (Citrus Aurantium dulcis), Rose Absolute (Rosa damascena), Neroli Oil (Citrus Aurantium amara), Cetyl Stearyl Alcohol, *Coumarin, *Geraniol, *Citronellol, * Limonene, *Linalool, Perfume, Methylparaben, Propylparaben. *Occurs naturally in essential oils
Strong perfume smell
However, the giveaway is the smell of strong perfume which I dislike. Nothing natural about the smell; in fact I would even say it's too artificial and rather "piercing". I guess I'm more used to raw, natural and herbal smell these days.
Comes in choices of 11 funky cute designs
I guess a lot of girls get Steam Cream because of the funky cute packaging. I admit I like the compact, flush-lid aluminium tin featuring unique and collectable designs, which are said to be designed in Japan. You have 11 choices and the one you see here is Blanc.
Overall summary
Overall, I would say this cream is lovely. I was interested to know the difference in this cream because of the steam process and I have to say I'm not disappointed. I love how soft it makes my hands feel and I'm kind of addicted to it. However, the smell is rather off-putting to me. I wish they'll cut down the amount of perfume in it. The price seems fair at £9.95; I paid S$25 for it including shipping and handling through a spree. It's quite a big tub at 75g and I wouldn't say it's really that handy-sized as described but I'm not complaining. I would definitely buy this again!
One question for those who are using this – where do you apply this cream on? I've tried it on my face but I'm using it mainly for my face.
Comments