Emu oil: good carrier of active ingredients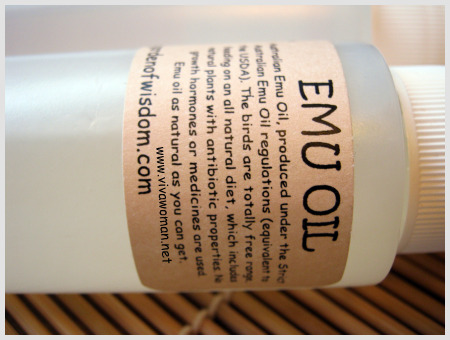 I first came across emu oil when a DIY ingredient supplier suggested that I mix it with seabuckthorn oil for better skin penetration. Subsequently, Susan of True Beauty passed me a small bottle to dab on my acne because of its anti-inflammatory and healing properties.  It did help to calm my angry inflammed acne to a certain extent but I found the healing slow until I used it in combination with tea tree oil and saw better results, proving that emu coil is indeed an effective trans-dermal carrier for other ingredients.  In addition, I used it a few times on my face and quite like how my skin felt with this oil.  So recently, I decided to purchase a full bottle from Garden of Wisdom through a spree.
Used thousands of years as a natural medicine
Extracted from the flightless bird, the emu, and rendered from a thick layer of fat on the back, emu oil is indigenous to the Aborigines in Australia and said to be used for thousands of years as a natural medicine for arthritis pain relief, to heal wounds, burns, sunburns, and to reduce the pain, itch & swelling of insect bites and stings.  
Gentle for all skin types and good for anti-aging
Emu Oil  has a complete source of essential fatty acids and is highly moisturizing, hence is a natural skin softener and has rejuvenating properties.  In addition, the oil has an extreme anti-inflammatory response and is a great healing aid.  It has no distinct scent, is natural, non-toxic, non-comedogenic, hypo-allergenic and hence, gentle for all skin types.  In fact, it is said to be good for treating wrinkles and fine lines!
Composition of fatty acids similar to those in human skin
Although emu oil is said to be non greasy, I personally found it feels rather thick and somewhat rich.  The new oil I purchased from GoW even has deposits of the fats but the surprising thing is that the oil absorbs very quickly into the skin and this is possible because I learnt that emu oil is almost 100% triglyceride lipid. Triglycerides is a type of fatty compound that are abundant in human skin lipids, meaning that the composition of fatty acids in human skin is very similar to that of emu oil. 
Highly penetrative due to its very small molecules
In fact, emu oil penetrates the skin better than any other natural oil as its molecules are much smaller than the molecules in human skin and it is said to be able to penetrate down seven layers of our skin!  In addition, since emu oil is high in oleic acid, this increases its ability to carry compounds through the skin as well. This is no wonder why my tea tree oil worked better with it on my acne than when I used it alone!
Vegans avoid emu oil
Okay, I'm no vegan so I have no issues using emu oil. My Marie-Veronique Organics Creme de Soleil has the ingredient too. Their Creme de Jour on the other hand, caters to vegans who do not want to use the oil at all. I'm not sure about the anti-aging claims of emu oil but I definitely think it's a great oil to use as a trans-dermal carrier for your other ingredients. In fact, I'm currently using this together with a new Manuka Tea Tree Oil I got from GoW and I'm really pleased with the results. Perhaps I'll get something else to tackle my pigmentation and see if the emu oil can enhance the penetration.
So any of you use emu oil? I know Ms Blacklace does as she has left very positive comments on it before. What about the rest?
Comments