Would you detox to lose weight & feel good?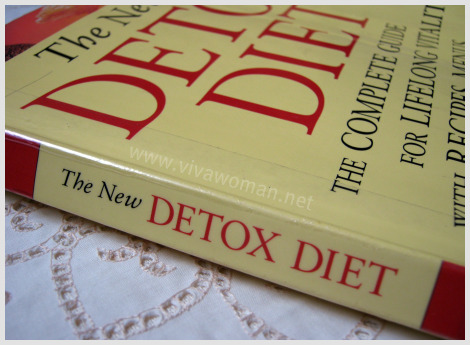 I've finally completed my 14-day detox program on Sunday and am ready to share more updates in terms of what I've lost or gained. Strictly speaking, I wasn't following any of the detox diets like juicing or water fast. In fact, I started out thinking that I could just rely on the Kordel's Detox-Cleanze and maintained my diet. However, as I progressed, I made gradual changes and by the end of the first week, I lost 2kg and my tummy was looking really flat.
Losing weight
Now, losing weight isn't what I've planned to achieve because I'm skinny according to most people. I weigh 44kg before detoxification and now, I weigh 42kg. So for people who want to lose weight, you maybe happy to know that going through detox can help you do that. So besides taking Kordel's Detox-Cleanze, what else was I eating?
My so-called detox diet
First, I was drinking lots of water. I woke up each morning drinking 2 cups of warm water. During some mornings, I was drinking up to 1 litre and by the end of the day, I would have easily consumed about 3 litres of water. I maintained my usual breakfast, consisting of a cup of tea and two pieces of softgrain bread with raspberry or strawberry jam. For lunch, it was either porridge or a bowl of soupy kway teow and a plate of fruits or sometimes, just the latter alone. In the afternoons, I'll make myself a cup of green tea. As for dinner, it was the usual consisting of a combination of vegetables, fish and meat but I cut down my intake of rice. Well, this actually wasn't very much different from my usual diet.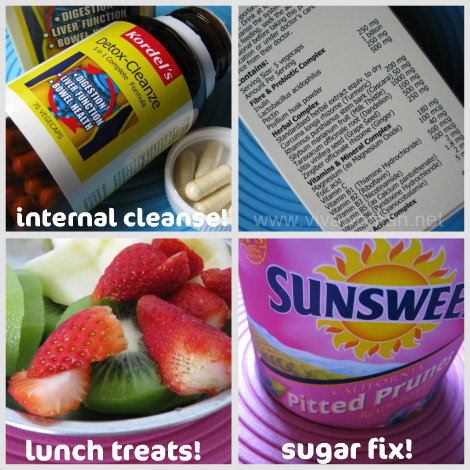 Cutting down on sugar intake
The biggest shift for me was cutting down my sugar intake. Although I maintained my breakfast, I cut down on the sugar used in my tea, as well as the jam on my bread. By the second week, I avoided all pastries and most processed food and relied on fruits or pitted prunes for my sugar fix. Even then, I was careful not to overdo with my consumption of those as they are still sweet and I've learnt that anything sugary is a big bane for me and would cause my skin to break out.
Small diet changes can produce some positive responses
I started reading The New Detox Diet by Elson M. Hass, M.D. in week two and learnt that what I was doing was on the right track as making mild changes from our eating habits can produce some responses although more dramatic dietary shifts can produce a more profound cleansing. In addition, adding supplements like in the case of me using Kordel's Detox-Cleanze is good because they can also stimulate detoxification.
Clearing out toxins internally
One of the good things that happened for me, which also explained my persistence in the program was that I was able to go to the toilet every day. Before I started out my detox plan, I had major constipation issues and was visiting the loo only once in two or three days. Yes, I was full of toxins then!
Renewed energy and motivation level
For those who followed my tweets, you may have seen my earlier comments about feeling tired when I started out the detox. The changes were slow in the first week but by day 12, I woke up feeling really energized and motivated – something I've never felt in years! I was feeling so good that I even caught myself dancing to the music on the radio. Even my husband noticed the change. The good mood has continued till now although I still nag at my child on most days. And something quite amazing happened too – I didn't experience any PMS prior to my menses!
No visible changes in skin complexion
My objective in embarking on a detox program is really to clear up my acne. However, I have yet to notice anything significant on that front. In fact, I reported that I broke up big time after the first week. The good thing is that I didn't see any more purging afterwards so I'll like to give myself another one or two more weeks to see how it's working out. But one of the most valuable lessons I learned from this detoxification is being mindful of my body and really taking good care of it, especially what to feed it.
So you wanna detox too?
So now, I'm all for another detoxification program as I've learnt that it's good to rest our body from time to time. But the next time I do it, I'll attempt a more rigorous detox diet, perhaps one along the lines of fasting. And for those of you who are keen to attempt detox and don't quite know how to start, try reading The New Detox Diet as it has various recommendations – from sugar detox, caffeine detox to the full-fledge detox diets. Oh, and one more thing. You'll need to persevere and stick to your guns even when tempted by people close to you – like my 'wicked' husband in my case!
Read Part I of my detox here.
© www.vivawoman.net copyright notice ☺
______________________________________________________________
Comments