Using oil to clear my breakouts: am I crazy?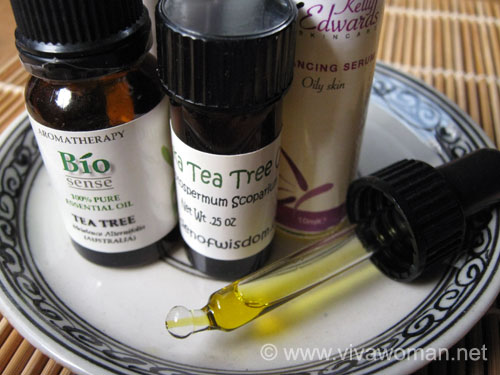 It's been awhile since I last wrote about acne or pimples. Well, my skin was clear for awhile but it broke out a little recently, maybe due to a healing crisis because of the Fit Solution all-in-one supplement that I am taking. Anyway, I was expecting some breakout because in one of my facial sessions, I was told that I have some clogged pores that would breakout in time. But all is good now. Just need to take care of the marks so that they can go away quicker. By the way, what items do you ladies reach out for whenever you have breakouts? For me, it's my stash of oily products! Sounds strange isn't it, considering that acne occurs when the pores of the skin clog up with too much oil and our dead skin cells then become infected with bacteria.
Tea tree oil, Neem oil & Jojoba Oil
Actually it isn't strange because a number of these oils have anti-bacterial properties that are helpful to deal with acne. Tea Tree oil is one popular oil used for such purpose. However, I find that tea tree oil does not work for me all the time and it can be rather drying when overused. Another popular oil used to counteract acne is Neem oil because it contains active ingredients that are very similar to the ingredients in common medical acne treatment products. Some other acne sufferers use Jojoba oil as this oil strenghtens the epidermis and leads to less dead skin cells and clogged pores. I don't like either of these oils as Neem oil is so thick and the smell is too strong. Jojoba is likewise too oily for my skin.
Evening Primrose Oil & Emu Oil
For me, I found evening primrose oil to be good for acne flare ups because of its ability to dilute sebum production (click on the link for my entry describing the benefits). My experience using evening primrose oil is good because my acne would always subside quickly. Another oil I use very often is Emu oil (click through for the benefits). Emu oil has a complete source of essential fatty acids and is highly moisturizing. The oil has an extreme anti-inflammatory response and is a great healing aid. In addition, it also penetrates the skin better than any other natural oil as its molecules are much smaller than the molecules in human skin. What I found though is that there are different grades of Emu oil and not all of them work well. Those that work well are good on its own in dealing with my acne issues. But the healing process may take longer compared to using conventional commercial acne products.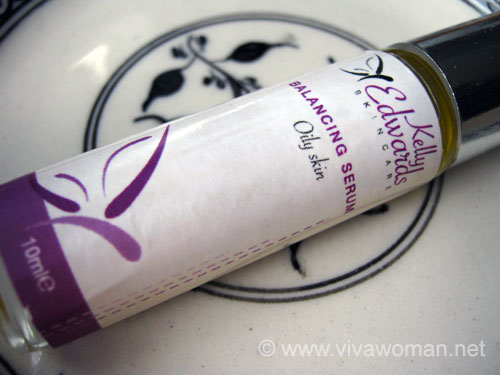 Mixed oil serum
I've also been using a balancing serum from Kelly Edwards Skincare to counteract my acne problems. I like it because it's a roll on and I only need to apply it to my problem area. This serum contains a blend of Chia Seed, Rosehip, Evening Primrose, Jojoba, Vitamin A, Vitamin E, Ginseng Tincture, Willow Herb, Acai Berry and the Essential Oils of Mandarin, Lavender and Ylang Ylang.  Plenty of oily goodness that has helped to control my breakout pretty well.  However, I'm also mindful that this serum contains Retinyl Palmitate (Vitamin A) and that must have helped to deal with my breakout too.  But because of the combination of oil, it isn't that drying.
Oils take a longer while to heal
Of course when it comes to using oil to heal acne, the results are much slower. Having said that, I've to concede that using oil is better when it comes to reducing the appearance of marks. And because I'm already using a facial oil on a daily basis, so the combination of Rosehip Oil, Raspberry Oil, Seabuckthorn Oil and so forth would have also helped to reduce some of the acne marks more quickly. So any of you also like using oil to control your breakouts? Which are the ones that you've found to work very well for your problem skin?
Comments