Eat papaya to get rid of wrinkles & a round tummy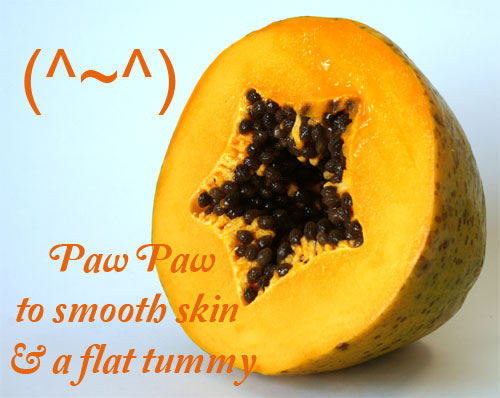 Some people seem to love papaya and that's really wonderful for them! I know it's a good fruit all right but it's another thing altogether to want to eat this stuff. I'm sorry to say this but the smell and taste totally puts me off. The closest I can get is to use paw paw balms! So I'm really losing out on the goodness of this fruit because it can help one reduce wrinkles, and at the same time, maintain a flat tummy.
Reduces inflammation and promotes skin healing
Papaya contains several unique protein-digesting enzymes including papain and chymopapain. These enzymes have been shown to help lower inflammation and to improve healing from burns. In addition, the antioxidant nutrients found in papaya, including vitamin C, vitamin E, and beta-carotene, are also very good at reducing inflammation. (source: WhFoods.com). So when taken frequently, papaya can help restore skin elasticity since vitamin C also helps the manufacture of collagen too. Another thing to note is that paw paw is well known for having antiseptic qualities too when applied topically and that's the primary benefits of those paw paw balms.
Promotes a flatter tummy
Papain also aids protein digestion as it helps break down protein in the food you eat. I didn't know too much about the connection between weight loss and papaya until Jo of Lolita mentioned to me and upon research, I found out that the potassium and fibre in papayas help to tighten the tummy. I can't seem to locate any research backing this up but various websites on the Net do promote this information. But I remember Jo telling me that she lost weight eating this stuff so it must be able to work some magic.
Do you like papayas?
I don't have a tummy issue but I would love to enjoy the anti-inflammatory benefits for better skin. However, I can never ever acquire the taste of eating papayas. How about you ladies? Do you like papayas? Or are you like me, having a hard time smelling the fruit even?
Comments