Suncoat: natural, earth-friendly cosmetics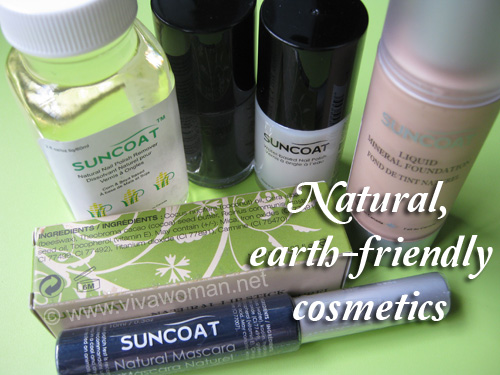 I know something about Suncoat's water-based nail polish but I didn't realize that they also have a range of cosmetics ranging from foundation, eye shadows, mascara, blush to lip products until I received some of them through their local distributor here. Suncoat's products hail from Canada and are positioned to be natural and earth-friendly, with some of them containing ingredients that are certified organic. So did they fare well for me?
Free of nasties
I was sent a few of their products including their foundation, mascara, lipstick, and of course their nail polish and nail remover. In fact, of the lot, I was most excited to try the nail polish because I've not really come across one that is water-based. The first thing I did was of course to take a sniff at them and true to the description, Suncoat's nail polish does not smell nasty compared to the chemical, solvent based conventional nail polish. They are indeed free of toluene, formaldehyde, phthalate, acetone, acetate, and even alcohol!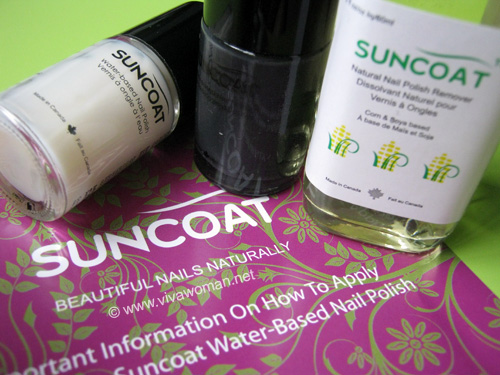 Suncoat Water-based Nail Polish 15ml S$20
Main ingredients: Aqua (water, ~65% in formula), acrylate copolymer / styrene-acrylate copolymer (~28% in formula) Other ingredients (all under 4%): propylene glycol n-butyl ether, dipropylene glycol dibenzoate
In fact, I was also intrigued by the texture of the nail polish, which resembles nothing like the conventional nail polishes I've been using. I thought it looks a bit like water color paints! The difference in texture is because the major ingredient is water, not chemical solvents. So when Suncoat water-based nail polish is being applied, it is only water that evaporates to the air, not toxic chemical fumes. In terms of application, I needed to be careful with this one and not apply too much. So practice was required with this water-based nail polish. It applies on matt plus rather uneven and only looks better with a topcoat. I had to be careful with the topcoat too because anything too thick, the 'white' will show. I wonder why the topcoat is not transparent? And the other thing I don't quite fancy about this nail polish is that you can't leave it longer than a week or you'll not be able to remove it. The good thing I found through trying is that it can also be removed with conventional nail polishes.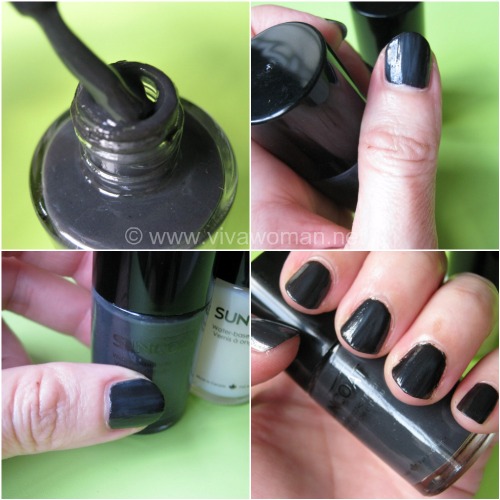 Suncoat Natural Nail Polish Remover 60ml S$22
Ingredients: ethyl lactate (from corn fermentation), methyl soyate (from soya oil), vegetable glycerin, D-limonene (from orange)
Okay, this one has a strong smell of corn that I don't really like. But other than that, this one is good stuff because it is natural and free from solvents too. It also works for both water-based and conventional nail polish. I used this to remove the Suncoat water-based nail polish but this also worked well on my OPI or Zoya nail polishes! You'll need to rub on a little harder to remove the nail polishes and it leaves a greasy residue but given that it does not dry out my nails, these don't bother me too much.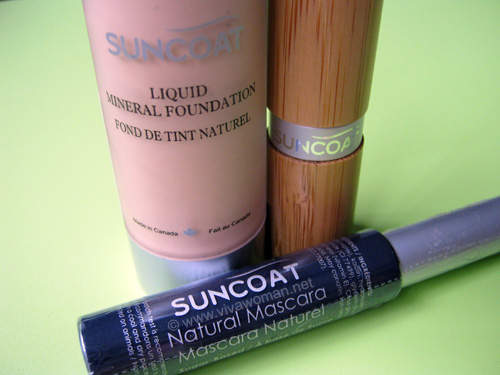 Natural Liquid Foundation 30ml S$30
(no nano particle-sized minerals / pigments): Aqua (water), titanium dioxide (CI 77891), glycerin, cetyl alcohol, isopropyl palmitate, glyceryl stearate, stearyl alcohol, Butyrospermum parkii (shea butter)*, caprylic / capric triglyceride, Glycine soja (soya bean) oil*, Aloe barbadensis leaf juice*, iron oxide (CI 77492), Citrus grandis (grapefruit) seed extract, Cannabis sativa (hemp) seed oil, tocopherol acetate, ascorbic acid, retinyl palmitate, iron oxides (CI 77491, CI77499). *certified organic
The one that came in my package was in transparent and indeed, it was just that with minimum coverage. I think the ivory one would work better for me as I need at least medium coverage. In terms of ingredients, this liquid mineral foundation provides moisturizing with organic aloe vera, shea butter and hemp seed oil and is free from parabens, synthetic colors, mineral oils, and animal products. The one ingredient that bothered me a little was retinyl palmitate. Granted it's listed at the end but I would have been happier if they've left it out totally since this is cosmetics and not skin care.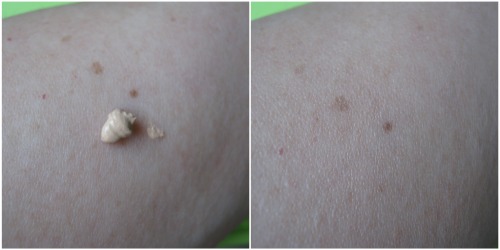 Natural mascara 10ml S$20.50
Ingredients: Aqua (water), kaolin clay, vegetable glycerin, hydrolyzed Zee mays (corn) starch (natural sugar-based biopolymer), lecithin, Citrus grandis (grapefruit) seed extract, tocopherol (vitamin E), citric acid, iron oxide (CI 77499), ultramarine blue (CI 77007)
Oh I love this mascara! It's described as a sugar-based natural mascara made with natural sugar-based biopolymer, kaolin clay, earth pigments and enriched with vitamin E. It's not waterproof and I didn't find that it builds lash volume or length but I am happy to use it as it is made free fragrance, paraben, alcohol, glycol,PVP (polyvinyl pyrrolidone polymer), acrylic copolymer, and VA (vinyl acetate) polymer. It doesn't smell one bit nasty at all and I could remove it with my usual cleansers! Definitely love the blue!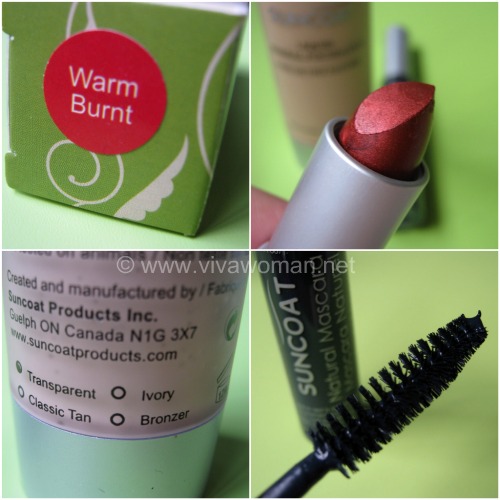 Moisturizing lipstick US$20.99 (listed in their Canada website)
Ingredients: Cocus nucifera (coconut) oil, Cera alba (Beeswax), Theobroma cacao (cocoa) seed butter, Ricinus communis (castor) seed oil, Tocopherol (Vitamin E). May contain: Iron oxides (CI 77491, CI 77499, CI 77492), Titaniun dioxide (CI 77891), Carmine (CI 75470).
It was a pity that the distributor has discontinued the lipstick due to some shipping issues because I found the one I was sent rather moisturizing and I kinda like their concept of sustainable cosmetics packaging using renewable bamboo cartridges rather than the usual plastic casings. The ingredients look good to me too although I know some women might have issues with carmine. Anyway, Suncoat in Canada has listed 10 colors for their lipsticks if you can get your hands on them.



Overall summary
I wouldn't say I'm all that taken by the Suncoat range of cosmetics that I've tried but I've to applaud the company for introducing those unique water-based nail polishes. I believe those who are in pursuit of natural nail polishes will delight in their selection of 11 colors, even though they may not yield quite the same results as the glide-on-smoothly conventional nail polishes. But I would recommend trying the lighter shades as those will probably look smooth and polished with the top coat. They also have toxic-free nail polishes for children, if you would like to have some nail fun for your kids.
For more information and how to get Suncoat's products in Singapore, check out Fantastic Find By PuppyMoo.
Update: The company is offering a 10% discount on all Suncoat products from now till the end of June. Simply email sales@fantasticfindonline.com with your order and the subject "Viva Woman Promo" to claim the discount.
Comments