Share: do you use a deodorant or antiperspirant?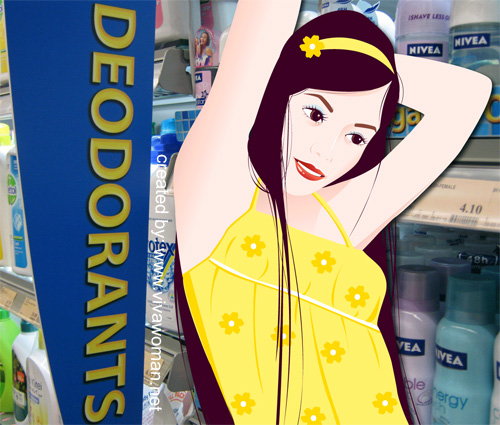 Let's get really personal today by going to the pits…I mean armpits. It's good that the Internet does not transmit smell and so we're safe to discuss this topic freely. (^▽^) To get started, let me share a little bit of history on how I got started using deodorants.
A bad case of B.O. & a kind hearted colleague
Regular readers here are probably aware that I need to use something to keep my armpits smelling fresh all day long. In fact, I started using deodorant at the age of 17. I had a severe case of body odor…or should I say armpit odor. I knew it but I didn't know what to do about it. I was not savvy about personal care at that age and it took a colleague, who was kind enough to highlight to me and adviced me on what to do about the issue. I was in between school at that age and worked as a receptionist in this Christian association. This colleague was a few years older than me and just before she resigned from her job, she mentioned about my body odor out of concern. I should have been offended but I wasn't. In fact, I was grateful to her because I wouldn't otherwise knew how to tackle the problem then. And another reason why I wasn't offended was because I felt bad that she bore with the awful smell for the couple of months we worked together! (X_X)
Difference between deodorants & antiperspirants
If I recall correctly, she introduced me to Rexona and it was probably a spray formula that I started out using. By the way, deodorants are different from antiperspirants; I used to think they're the same. First off, body odor is caused by bacteria that act as a fermenting agent on your perspiration. With a word like 'ferment, you can be certain that the smell is BAD. So deodorants work by neutralizing the smell of the perspiration and by antiseptic action against bacteria. Antiperspirant on the other hand, is a kind of deodorant that suppresses body odor by preventing perspiration from occurring in your armpits. Typically, powerful astringents such as aluminum salts are used to block the pores under your arms so that they can't release perspiration. Obviously, deodorants are a better choice.
What I use now
So since age 17, I've been using deodorants daily. It is something I CANNOT live without. I've tried a DIY deodorant but it was too time consuming and so currently, I alternate between Nivea Pure & Natural Action Roll-On Deodorant and the Naturally Fresh Deodorant Crystal. Before I started writing on this blog, I had naively thought everyone needed some help with either a deodorant or an antiperspirant. It was only later I realized it's not the case. Well, actually my husband does not need to use one. (-_-)
Over to you
So ladies, I'm curious and want to know: do you use a deodoroant or an antiperspirant? Is it something you MUST use daily? I really want to know if there are more people using or not using deodorants. And since we're on this topic, share with me what products you use too. Oh, and would you tell someone they need a deodorant? (~o~)
Comments