Beauty Fun: meet Mr Cotton Bud's cute cousins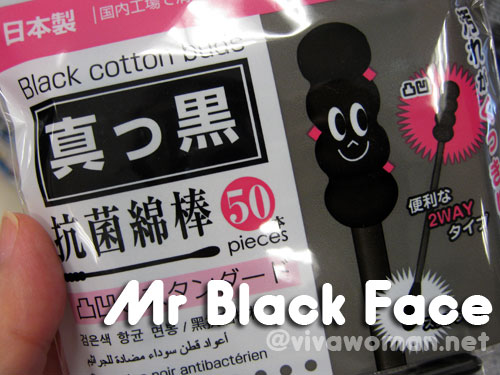 Hey VivaBellas! Have you met the extended family of Mr Cotton Bud yet? No? Oh you mean you don't know the helpful Mr Cotton Bud? Okay, how about Mr Q-tips? You know, he's that guy that looks like a small wad of white cotton wrapped around one end of a short plastic rod? Yeah, how would you not know him right? Well, I thought I'll take a break from the usual posts and introduce you to his distant cousins from the land of the rising sun. Say konnichiwa to the cute little fellas – Mr Black Face-san, Mr Sticky Head-san, and Mr Wet Head-san!
Oh I took notice of these skinny fellas in Diaso only because they're quite strange looking. I mean, I'm so used to the clean and all white Mr Cotton Bud and I never knew his extended family can look and feel so different. I like Mr Cotton Bud but his distant cousins are really a bit cold, wet, sticky, and Mr Black Face looks a wee bit dirty to my untrained eyes. Okay, let's not be judgemental here. I think they're all nice little fellas even though they look strangely different from Mr Cotton Bud. Perhaps Mr Black Face is not dirty but I was told he'll make whatever gunk look more obviously filthy! Wow, what a noble little fella! No wonder he's always smiling. (#k8SjZc9Dxk_#k8SjZc9Dxk)
And next in line, Mr Sticky Head is well, uh…sticky. You know, once the little fella makes a friend of you, he'll never ever want to part ways with you. I think he looks kind of cheeky so seriously girls, I don't think you want him to go near your face because who knows what pasty business he'll do there. You might want to keep him around your work desk though because I was told he'll make a particular good friend of dust on your keyboards. (~_#k8SjZc9Dxk)
I think Mr Wet Head is quite safe and helpful. He might be able to help you with your makeup blunders too. But I don't know, despite his helpful demeanor, I think he's quite insecure because he's always thinking that he's quite redundant and not quite as outstanding as his other two brothers. But still, even if he's not so useful, he's sort of kawaii in his odd ways. (n_n)
So much for the introduction. Do remember to say hello to them when you head to Diaso. Oh, it'll take you awhile to figure out the original Mr Black Face-san, Mr Sticky Head-san, and Mr Wet Head-san because there are a couple of clones around. But they'll all quite mild and meek so it's quite safe to bring them home to play if you wish.
© www.vivawoman.net copyright notice ☺
______________________________________________________________
Comments