Green Beauty: do herbal toothpastes work well?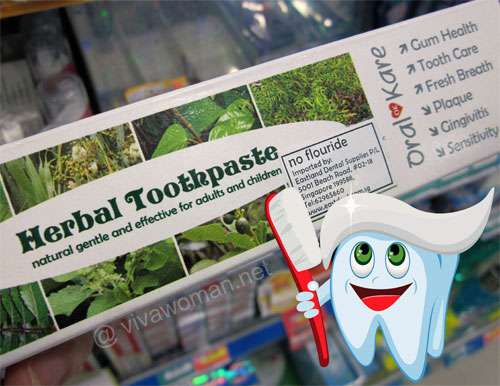 I'll admit upfront that I know very little about dental care but I've been toying with the idea of switching to a herbal toothpaste recently. The only thing that is holding me back is, there aren't that many herbal toothpastes available on the store shelves here, and this is not an item I feel compelled to incur shipping cost for. But perhaps more importantly, I wonder if it's all that wise to switch to one that is fluoride free.
Too much fluoride is bad
Okay, I know fluoride is toxic, at least too much of it. But it's a common ingredient found in conventional toothpastes to help remove plaque, and prevent tooth decay by strengthening the tooth enamel. Most herbal toothpastes do not include fluoride and they do have a valid health case for it. According to the Ministry of Health here, too much fluoride can cause enamel fluorosis, a discoloration or mottling of the permanent teeth. And in Singapore and other developed countries, fluoride is already added to the water supply.
Singapore is the first country in Asia to institute a comprehensive fluoridation programme which covers 100 per cent of the population. The water was fluoridated at 0.7 ppm fluoride using sodium silicofluoride. The ten year study on the effects of water fluoridation in Singapore showed a decrease in caries prevalence in the children. In the permanent dentition the reduction was 52.3 per cent for Chinese and 31 per cent for Malays in the 7 to 9 year old age group. A similar trend was observed in the mixed dentition in which the decrease was 32.5 per cent for Chinese and 30.6 per cent for Malays. Because of the availability and use of other fluoride products, dental fluorosis was observed in children in later years. (source)
Toothpaste market regulation
Still, we are always recommended to use toothpastes containing fluoride and I don't believe the toothpastes in our market are being regulated as strictly as those in US, where the FDA has established a number of regulations relating to the required testing procedures before the toothpaste may be marketed.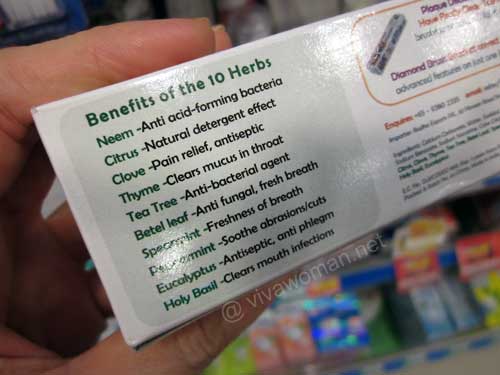 Natural alternative
Herbal toothpastes are attractive because of they are always promoted to be healthier since they are 'more natural' as they do not include artificial sweeteners, flavorings, colorings or preservatives. Well, not all ingredients are natural; sodium lauryl sulfate is one that I spotted in this herbal toothpaste featured in the picture so you have to check the label. However, such products would have included various natural ingredients such as neem, fennel, tea tree, basil, peppermint, and others which the manufacturers claim are able to prevent tooth decay. In my research, I haven't found that many clinical research to prove their effectiveness except for a handful of studies that supported the clinical efficacy of herbal toothpaste in reducing gingivitis and plaque, such these dated 1991, 1998, and 2011. So I'm really wondering if it's worthwhile to switch to herbal toothpastes given these data; I certainly don't want to brush my teeth with all the herbal ingredients only to find my teeth weakened at the end of a month!
Share your thoughts
Perhaps those who have used or are using herbal toothpastes can give me your opinion. What brand of toothpaste are you using? How long have you been using it and how has it been for your teeth?
Comments