Check out this season's delectable dresses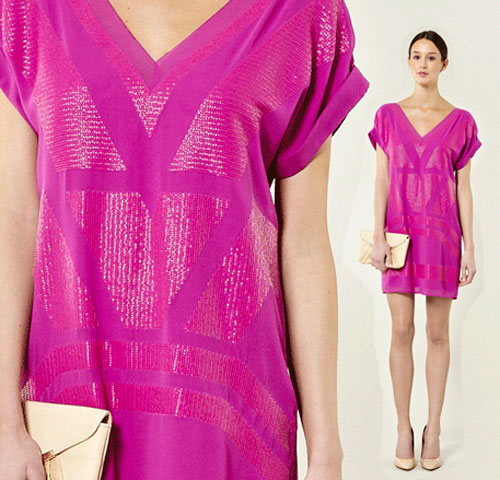 Sartorial choices this season largely draw inspiration from the past. From the tea dresses of the 1940s to the mod-tunics of the 1960s, fashion is obsessed with history this winter. You have a wide range of dress styles to choose from, but seeing as the festive season is just around the corner, let's focus on party dresses. Warehouse has a delectable collection of dresses at the moment with styles falling into each trend bracket. Here we pick two of the best office Christmas party dress styles for the season; this should put you in a party mood.
It's no wonder the fashion industry is so in love with styles from the 1960s. Fashion from this era managed to be both feminine and androgynous. The Peter Pan dress is a perfect example. It is feminine and sassy without being overtly sexy and girlie. Its namesake Peter Pan collar gives off a masculine sense of style, whilst puff sleeves and the fact that's a dress speak of complete femininity.
This season's colour is nude, so work this into your outfit. However, you can add colour with accessories or instead work a more monochrome look, also a popular style choice from the era. Buttons and bows will score you extra fashion kudos and in terms of shape a drop waist or a-line tunic are your best options.
Party dress number two: the 1940s style two-in one dress
Is it a skirt? Is it a dress? Err… it's both. The 1940s was an era of femininity. Dress shapes flattered a woman's curves. Skirts were tulip or pencil shape and tops were flowing blouses coupled with cute cardigans. To combine the best of both worlds a two-in-one dress that looks like two separates but is in fact just one dress, is the perfect option for a grown up party occasion.
The skirt should be figure hugging and start at the waist and end mid thigh. Longer lengths are more in keeping with the era, but for a bit of sex appeal, the hemline needs to be a little shorter
The top should be a loose blouse, either long or short sleeved; however short, cap sleeves are the better option for party situations. The colours need to be contrasting. Go for monochrome or opt for bright colours to work in the colour block trend. Red, purple, orange and navy blue are particularly key colours for this trend.

Comments