Your sunscreen protects against UVB, UVA1 & UVA2?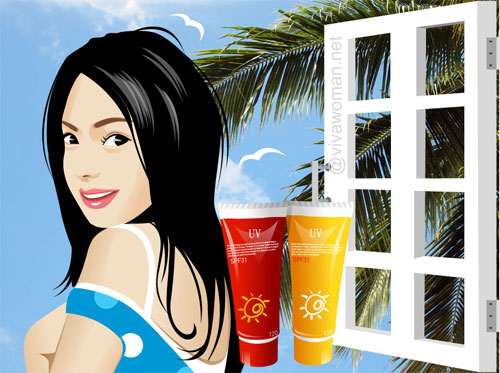 Hello fellow sunscreen addicts! Don't you just love it when you read another post about sun protection? I know I do, even if it's my own. Heh. Okay, I know I wrote a post about the best sunscreen ingredients back in 2010. Today's post is an update of that post and looks at the bestest of best sunscreen active ingredients that protects our skin against UVB, UVA1 & UVA2, which make up the UV radiation responsible for skin aging.
UVR wavelength facts
As many of you already know, there are three wavelengths of UV radiation – UVA, UVB and UVC. UVC is absorbed by the ozone layer and does not reach the earth. Hence, it has no impact on our skin. UVB rays, ranging from 290 to 320 nanometers, account for up to 5 percent of the UV radiation we are exposed to. UVA rays, however, account for up to 95 percent of the UV radiation we are exposed to and they are divided into two wave ranges: UVA1 (340-400 nanometers) and UVA2 (320-340 nanometers). (source: skincancer.org).
Protection mostly against UVA2 only
Both UVA and UVB rays affect our skin. UVB rays are the rays that burn or cause our skin to become red. Within UVA rays, it is UVA1 that makes up 75 percent of the ultraviolet radiation that affects our skin and cause premature aging (source: AAD). But do you know that many sunscreens are made of ingredients that only protects against UVB rays and UVA2 rays? Yes, some sunscreens are pretty much useless to protect us against premature skin aging because they are not made of ingredients that protects against the pervasive UVA1!
So what are the bestest sunscreen active ingredients that protect against UVB and both UVA1 and UVA2? I could only find three listed in Skinacea.
| Active Ingredients | UV Rays Wavelengths |
| --- | --- |
| Zinc Oxide | UVB, UVA1 & UVA2 |
| Tinosorb S | UVB, UVA1 & UVA2 |
| Tinosorb M | UVB, UVA1 & UVA2 |
Mexoryl did not make it to the list for Mexoryl SX protects against UVA1 and UVA2 while Mexoryl XL protects only against UVA2. Neither of them protects against UVB rays.
Check your sunscreen
So does your sunscreen incorporate any of these three ingredients? Power to your sunscreen if it contains all three ingredients! But if it does not, take comfort that it does not necessary mean that your sunscreen is not offering broad spectrum protection as it can be using a combination of ingredients to achieve protection against UVB, UVA1 & UVA2. You can look up the list at Skinacea to have a better idea of how much protection you're getting from your sunscreen based on the ingredients.
Sunscreens with those three ingredients
Personally, Zinc Oxide is still my favorite ingredient and thank goodness, it's a pretty popular ingredient in many sunscreens. I haven't tried anything with Tinosorb but if you're keen to check it out, you can look up sunscreens from Avene, Bioderma, Eucerin, Uriage and RoC. Do note that the ingredient Tinosorb S is also known as Bis-Ethylhexyloxyphenol Methoxyphenyltriazine, while Tinosorb M is also known as Methylene Bis Benzotriazolyl Tetramethylbutylphenol.
Comments