She's got her paw on Whiting & Davis Gattopardo Clutch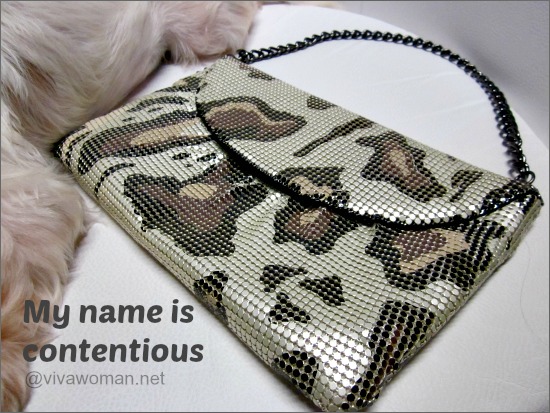 I was getting a bit anxious when the shipment for the Whiting & Davis Gattopardo Essential Clutch that I'd ordered was delayed. I needed it for a dinner this weekend and I was definitely not keen to scramble for accessories at the last minute. So when it finally arrived, boy was I glad. But little did I realize that I was in for another battle. This time, it was the battle of the PAW!
You see, my little Gracie was attracted by the custom-designed Gattopardo abstract animal print on the shiny pearl metal mesh. She actually thought the chic hand-held clutch looks better on her than on me and wouldn't let me have it!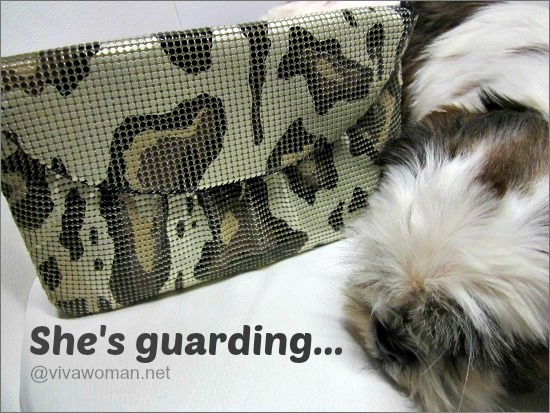 I tried distracting her to no avail and she snubbed at whatever I was trying to entice her with. She just would not let the bag out of her sight! She would not even lift up her eyes to look at the treats I tried pushing her.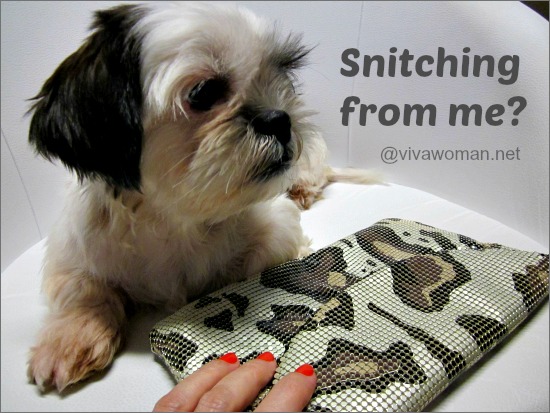 In fact, she was so possessive to the extent that she insisted on sleeping with the bag. She even put her best paw forward on the bag, just so that I wasn't able to snitch it from her! That's one mighty guard dog I tell ya!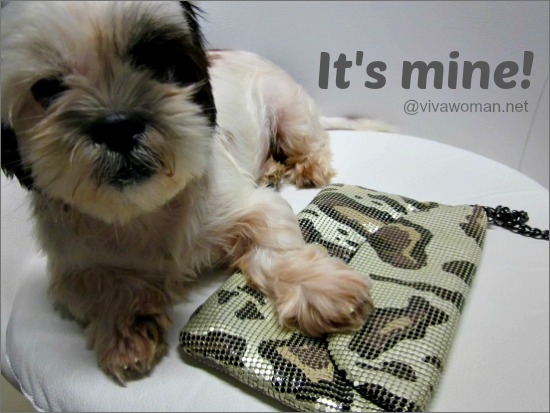 So I let her have her way with the bag for awhile, thinking that she might give up when she's bored with it. Well, she didn't. She was so enamored with the Whiting & Davis Gattopardo Essential Clutch, she wanted it 24×7! I think she wanted me to go grab another bag because she ain't relenting and no way was she going to let the bag go.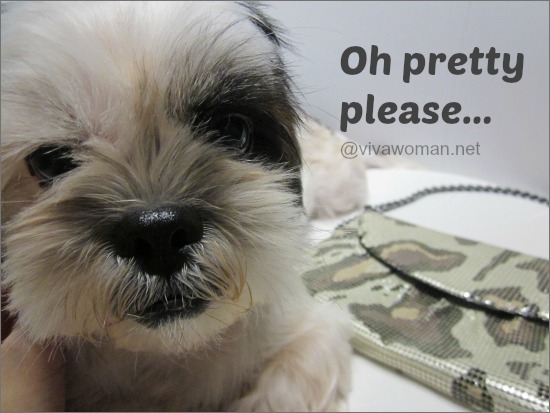 In the end, after some pep talk, a couple of bigger treats and promises of gourmet meals, she relented and lifted her paw for one night. I managed to use the bag as planned but I definitely need to be more careful with my fashion accessories in future. I think Gracie probably has a penchant for animal prints and I should exercise more caution and be more discreet with my choices in future. That, or I need to stash them away from her direct line of sight!
© www.vivawoman.net copyright notice ☺
______________________________________________________________
Comments