Tips to share: wipe off excess water from your face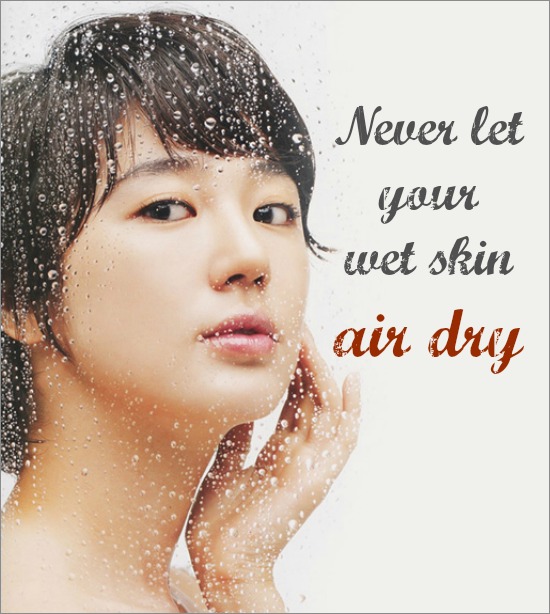 Hello ladies! Here's a question for you today: what is your next step when you're done with cleansing your face and it is dripping with fresh water from the shower head or water tap? Do you wipe off the excess water immediately with a towel or a tissue paper, or do you leave your face to air dry naturally before you start on your next skincare regime?
Audit your routine
Well, if you're leaving your face to air dry naturally, you may want to change that routine after reading this. I'm not sure why you're doing it. Perhaps you're not even aware that you're doing that? Perhaps you love the feeling of wet water dripping down your skin? Or perhaps you don't want to use the towel you wipe your butt with to dry your face? Well, the last one I can completely understand but not wiping the water off immediately from your face is actually worse than wiping with a towel you've just used on your butt or your nether regions. Why?
Water does not contain hydrating ingredients
Without any hydrating ingredients to bind moisture to your skin, drying naturally only means the water just evaporates. Your skin becomes drier and that could be why you may be experiencing some tightness on your skin immediately after cleansing. If your skin turns oily too quickly after you've washed your face, it also means your skin is too dry—you could be using the wrong cleanser, over washing or not giving your skin sufficient hydration.
"Moisturizing your face is something of an art. Always ensure your skin stays damp prior to applying your oil, serum or lotion."
My experience
So what's the best way to deal with this problem? Does it mean that wiping off the excess water from your face will guarantee your skin from traces of dryness? At this stage, let me share with you how I have been handling this water issue, and it is something I've been doing for various years since I started using facial oil in my skin care.
Keeping your skin hydrated
Right after cleansing and rinsing my face (with filtered water), I'll always pat off water from my skin but not wiping off all completely. While my skin is still damp, I'll quickly apply my oil or serum, depending on what I use to seal the moisture into my skin. In doing this, the oil or serum prevent the water from evaporating and keep my skin more hydrated. This is a crucial step of my skincare regime and I'll not skip this for any reason. As a result of doing this, I noticed that I don't always need a toner.
If you use a toner
If you do use a toner, then you should just wipe the water from your skin. Apply your toner and don't leave your toner to dry out too. While your skin is still damp, apply your oil, serum, lotion or moisturizer.
Same for facial mist
This principle applies if you use a face mist too. Always dab dry your face after misting. Never allow the mist to dry naturally or the water will all evaporate and your skin will feel dry and tight. In fact, I've also stopped using facial mist when I do this step properly daily and found my face to be sufficiently hydrated throughout the day. My skin doesn't turn out as dry and the oil production has also been reduced.
Share your experience
So tell me about what you do after washing your face. Does this make sense to you or do you go by some other skin care regime?
Comments