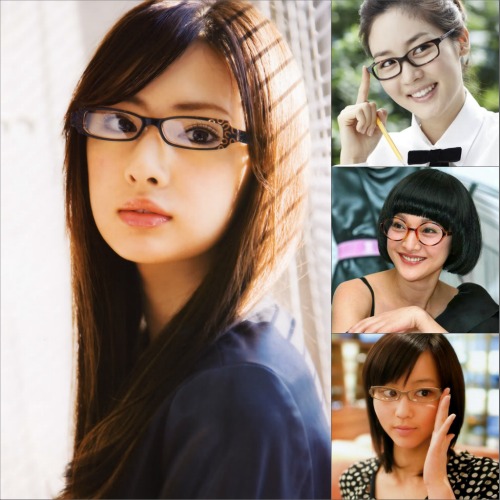 My contact lenses have been irritating my eyes so much that I had to remove and dump them on the way back home today. So that's it! I've made the decision to switch to using glasses and I will only use contact lenses sparingly. I haven't gone shopping for my new pair of glasses yet but I'm currently looking for some ideas; the last one I got was too heavy and nerdy looking and I think I'll try something smaller and lighter this round.
I really prefer NOT to wear glasses because I think I look better without them. So I've been hunting for pictures of pretty celebrities in glasses to console myself. They all look rather pretty in glasses, don't they? But I know, the same pair of glasses may not look good on me. I think I need to avoid those in dark frames and speaking of which, my son who broke his pair of glasses, received his new glasses and is hating it because it comes with a dark blue frame. He thinks it draws too much attention to his face. I wasn't around when the new pair of specs was made and there weren't too many choices either because it was an emergency. So he has been fussing over it and I'm wondering if I should just give in by ordering another new pair for him. Oh, kids these days are so different from my time! >.<
Okay, so much for the rambling. I'll probably show up with my new glasses if I look good in it. Heh. So any of you actually wear glasses on a daily basis?
© www.vivawoman.net copyright notice ☺
______________________________________________________________